I've written interpretations for every card in the Wild Unknown Tarot. As the box of the deck states, there are no rights or wrongs. These are simply my perspectives on the tarot card meanings. I hope you find them useful!
Click here for a directory of all posts in my Wild Unknown series.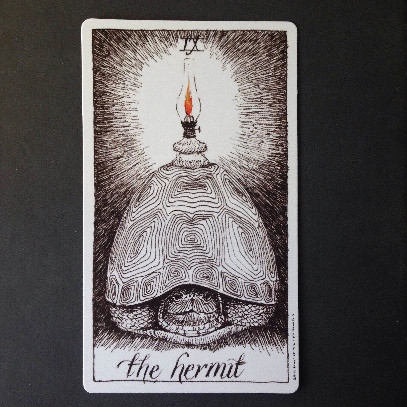 The Hermit :: Wild Unknown Tarot

Creator's Keywords: solitude, self-reflection, meditation
Get a deeper perspective on the unfolding of your life.
I offer private tarot readings and mentoring sessions. Let's work together! Explore options
Who better to portray the ideals of the Hermit than a tortoise? He wears his home on his back so he can literally go within. He peers out at us without looking worried. He is not hiding out of fear, but rather out of a deeper wisdom that compels him to withdraw into himself.
The scene around the Hermit is dark, but he carries a lantern upon his back, an orange flame giving the only splash of color in the card. The flame is vivid and confident. We might otherwise assume the Hermit is a timid character, but the flame shows otherwise.
Directly in front of the Hermit we see a splash of white illuminated by his lantern. This shows that he has a highly developed internal guidance system, and even though he may not be able to see the entire path before him, he carries a light that will always illuminate the next right step.
As a tortoise, this Hermit is not one to move quickly. He knows that he must take time to reflect, to contemplate and meditate, before he embarks upon any given path.
Sign up for weekly updates and get the free ebook,
The Tarot Reader's Daily Companion