I've written interpretations for every card in the Wild Unknown Tarot. As the box of the deck states, there are no rights or wrongs. These are simply my perspectives on the tarot card meanings. I hope you find them useful!
Click here for a directory of all posts in my Wild Unknown series.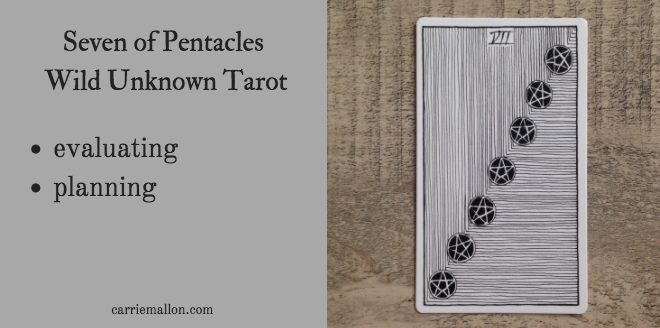 Seven of Pentacles :: Wild Unknown Tarot
Deck Creator's keywords: contemplation, reward
Carrie's keywords: evaluating, planning
Begin or deepen your tarot studies with
Foundational Tarot, my free video course!
Join the email list for instant access.
Seven of Pentacles Tarot Card Meanings in the Wild Unknown
Seven dark pentacles form a perfect diagonal line across the card. The background lines bring to mind two possibilities: in one view, the pentacles are lined up against a wall. In another view, the background lines represent steady energy which changes directions where it meets the pentacles.
This card speaks to those times when you've already put the initial groundwork into something (which happened in cards 1-6) and now you pause to take a look at the progress. There are times to make sure that "all of your ducks" are in a row before you take further action – this card is about those times.
The idea of direction change is something that is traditionally associated with the Seven of Pentacles. When you take stock of your situation, you may decide to proceed as you have been – or you may decide to try a varied approach. Either way, the Seven of Pentacles reminds you to pause and consider where you are (and where you want to go). 
It could be useful to tap into your "type A" tendencies. Get out your planners and make some updates. Revisit your goals and break them down. Take notes on what's working and what isn't working. Reconsider where you are placing your energy. Update your to-do lists and vision boards. Ask yourself how you can infuse your goals with fresh energy.
This card also shows the importance of acknowledging how much has been achieved so far. Even if you don't yet have a full blown harvest, you'll see the fruits of your labor already taking shape if you look closely. Remember to actually NOTICE all that you've already achieved, even if you haven't yet reached your final destination. By recognizing what you've already done, you'll create a conducive environment for further accomplishments.
Seven of Pentacles Tarot Card Meanings in General
In the Waite-Smith tarot, this card shows a person who appears to be a gardener. He rests his head on his gardening equipment, peering out on the results of the work he's put in so far. He is already seeing some results from everything that he has done, and he knows now is the time to plan for the future. Are his crops growing well, or do they need any additional nourishment? By considering these questions, he sets the tone for a favorable outcome.
The suit of pentacles is all about the earthy, mundane, practical matters of life. The Seven of Pentacles in particular asks you to take stock of these 'mundane' areas of your life. Where are things going well, and what can you do to continue that trajectory? And on the other hand, where do you need to make some adjustments to your strategies? A bit of useful assessment can do a lot to get you where you want to go.
In a reading…
When you see the Seven of Pentacles, it can be a sign to step back and analyzing the life you are building. Have you been working diligently to create something meaningful, or have you been drifting? Are things developing in a fulfilling way, or has something gotten off track? Don't be afraid to set goals, because you can always adjust them as needed!
Get re-organized. Evaluate where things are going well and where you could use a different approach. Make a blueprint. Check in with the results of your choices, work and efforts so that you can move forward productively.