I've written interpretations for every card in the Wild Unknown Tarot. As the box of the deck states, there are no rights or wrongs. These are simply my perspectives on the tarot card meanings. I hope you find them useful!
Click here for a directory of all posts in my Wild Unknown series.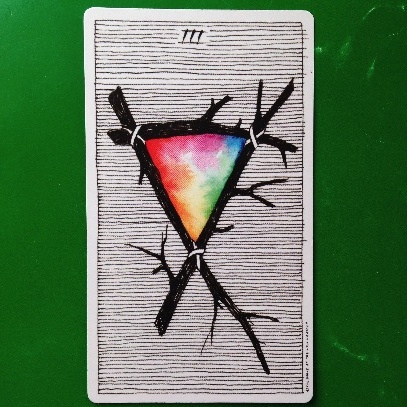 Three of Wands :: Wild Unknown Tarot
Creator's Keywords: self reliance, future visions
A tarot reading meets you where you are and aligns you with opportunities for transformation.
Together, we'll create a space for you to reconnect with your inner wisdom and align with your unfiltered truth. I'm currently booking a limited number of one-on-one clients for June 2018. 
Learn More
Three wands are bound together, forming an inverted triangle. As we gaze into the center, we see a rainbow swirl. Is this a vortex? Another dimension? The future? Or something else entirely? That is for us to explore and discover.
Branches jut out from the wands, they stand in contrast to the perfectly pruned wands we saw in the previous card. These wands have more of a rugged, adventurous, free-spirited energy.
The background is filled with horizontal black lines. This lack of flashiness draws our full attention to the wands, and above all else, to the colorful vision they present. The swirling rainbow beckons us to leave behind the drab, colorless surroundings and explore all the magic life has to offer!
We all have the potential to be visionaries. We can look beyond obstacles. We can look beyond the mundane world. We can see options, possibilities, endless terrain to explore and experience. Once we embrace our visions, we can begin to bring them into our reality.
Your future is a blank canvas – and all the colors of the rainbow are available for you to shape, mold and create your experience.
Sign up for weekly updates and get the free ebook,
The Tarot Reader's Daily Companion