I've written interpretations for every card in the Wild Unknown Tarot. As the box of the deck states, there are no rights or wrongs. These are simply my perspectives on the tarot card meanings. I hope you find them useful!
Click here for a directory of all posts in my Wild Unknown series.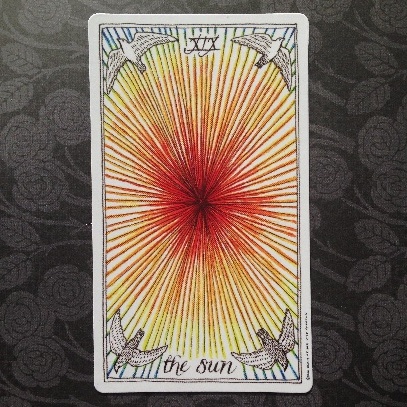 The Sun :: Wild Unknown Tarot
Creator's Keywords: new vitality, assurance, enlightment
Get a deeper perspective on the unfolding of your life.
I offer private tarot readings and mentoring sessions. Let's work together! Explore options
The Sun of the Wild Unknown is practically bursting with light! Glorious rays dominate the card, emanating nearly to the brim with orange and yellow beams. We are naturally drawn to the powerful, bold and welcoming energy inherent here.
The splendor of the sun is a life-affirming sight, especially after the darkness of the previous card. The sun always rises, even after the darkest of nights. What once seemed bewildering is made clear and understandable when viewed in this direct light.
This card reminds us that each day is a new offering, brimming with possibility and potential. The sun infuses vigor and greatness to everything that basks in its rays. We see a glimpse here of the truth that there is an eternal life force that resides in mortal beings. There's a radiant energy to the Universe that will never be extinguished.
In the four corners of the card, the rays begin to blend into green and blue coloring, showing the hints of the ordinary world drenched in light. There are birds in each corner, flying towards the edges. The birds are champions of the sun, expanding and heralding its positive energy.
There is an unstoppable sense of LIFE in this card. The sun itself is a necessary life force, it seeps energy into the food we eat and into our very cells. This is a card of vigor, celebration, understanding and living out loud. The unapologetic prominence of the sun is worth noting as well. There is no shirking here. This is a card of filling your space and unleashing your full brilliance.
Sign up for weekly updates and get the free ebook,
The Tarot Reader's Daily Companion