I've written interpretations for every card in the Wild Unknown Tarot. As the box of the deck states, there are no rights or wrongs. These are simply my perspectives on the tarot card meanings. I hope you find them useful!
Click here for a directory of all posts in my Wild Unknown series.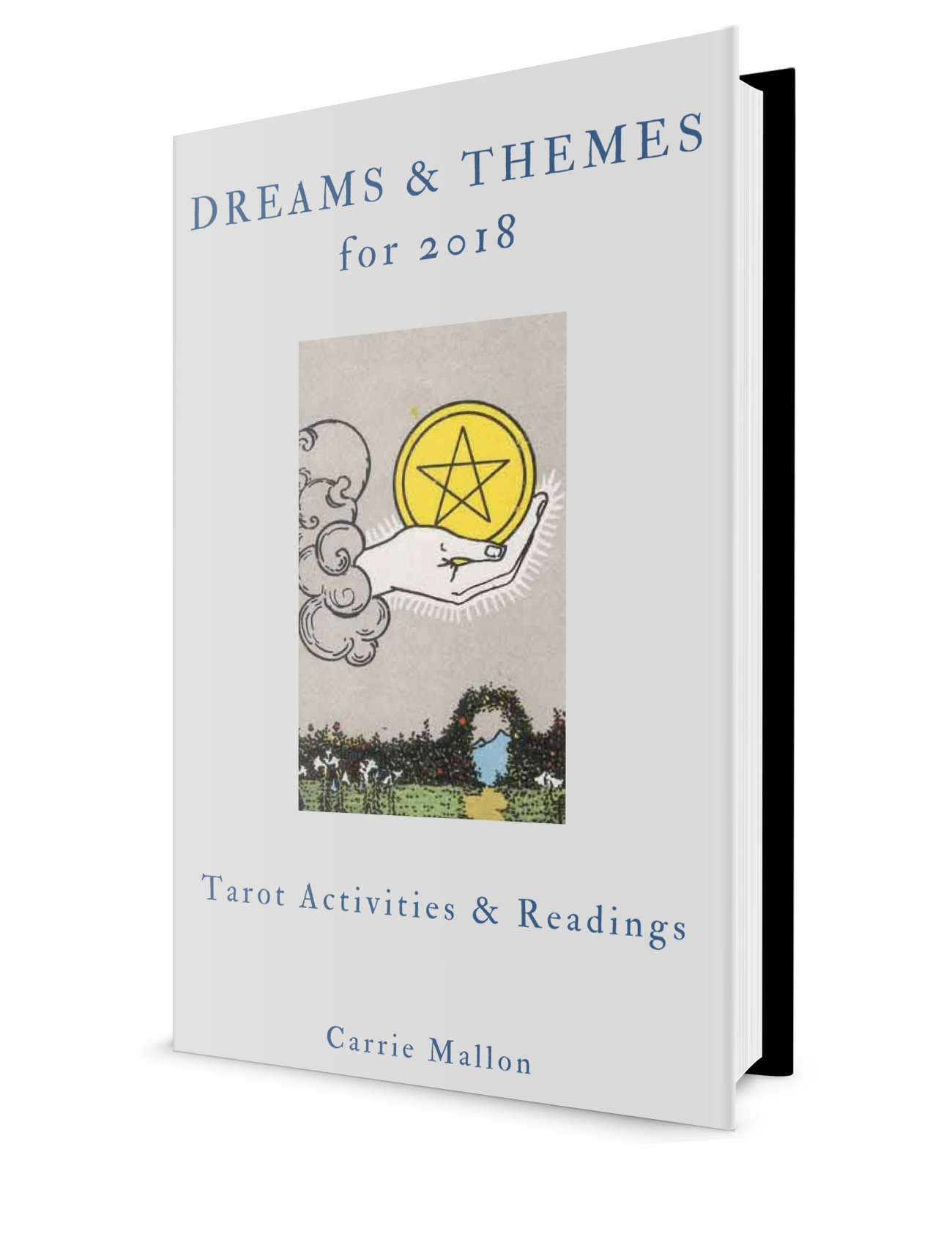 Use your tarot deck to work intentionally with the energies of 2018.
This ebook will show you how.
Get yours now for only $18.
Learn More
Ten of Pentacles :: Wild Unknown Tarot
Creator's keywords: generosity, fulfillment
On first glance, this card appears to only contain nine pentacles. But upon closer inspection, you'll notice the tenth pentacle resides within the center pentacle. The pentacles are arranged in a diamond pattern, not unlike the design we saw in the previous card. But this time, they are not bordered by feathers. They are open, expansive.
That center pentacle seems to hold a particular fascination. Not only is it actually two pentacles, it is also the pinpoint of the circular energy extending throughout the card. It's always important to note when the entire color spectrum is present in a Wild Unknown card. It highlights a sense of wholeness.
The Wild Unknown gives "generosity" as a keyword for this card. With this in mind, it is interesting to compare the Ten to the Nine of Pentacles. As we noted earlier, there's no feather nesting the pentacles here. They are free to multiply, to give generously without restraint.
The Tens suggest the suit's energy when it is taken to its natural conclusion. The pentacles energy is all about the material world, earthly matters, the body, finances, and nature. In the Ten of Pentacles, we see the picture of grace, health, and tradition in the material world.
This card suggests situations that have a solid foundation. Systems have been experimented with, and things have now found some order of normalcy. What is tried and true is the order of the day.
In a reading, this card can call you to examine your relationship with fulfillment. Are you satisfied with the current structures of your life? Are you enjoying your routines? What is your definition of success, and how does that definition match up with your current reality?
Remember that no matter how finite your current situation seems, life is still dynamic. There's always room for change and growth.
Sign up for weekly updates and get the free ebook,
The Tarot Reader's Daily Companion