I've written interpretations for every card in the Wild Unknown Tarot. As the box of the deck states, there are no rights or wrongs. These are simply my perspectives on the tarot card meanings. I hope you find them useful!
Click here for a directory of all posts in my Wild Unknown series.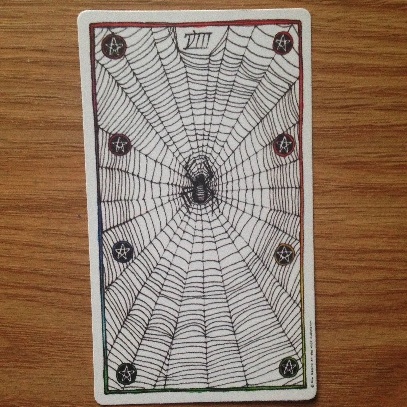 The Tip Jar
I put a lot of loving energy into creating these posts. If you find value in my work, please consider giving what you can to show your support. Thank you, thank you! Contribute any amount
Eight of Pentacles :: Wild Unknown Tarot
Creator's keywords: craftsmanship, skill
An intricate, well-crafted web expands across the entirety of the card. In the Seven of Pentacles we saw the assessments being made, and in the Eight of Pentacles the actual labor is progressing. The hard-working spider who has built this web sits in the center of the card, focused on the task at hand. Four pentacles, spaced evenly and purposefully, line either side of the web.
If you are going to build a web, you need to be devoted to your craft. You need to be willing to joyfully immerse yourself in your work. For the spider, it isn't about rushing through the process to get to an end result. It is about embracing each part of the work with dedication and attention to detail.
The Eight of Pentacles is a card of down and dirty effort. In order to take the passionate energy of the wands and the emotional energy of the cups and turn it into something real, we need to be willing to, well, do the actual WORK! This is the message of the Eight of Pentacles.
In a reading, this card can ask you to tap into your good old fashioned work ethic. The spider is not swayed by distractions, doubts or outside influences. Be like the spider – just do what you need to do without drama. If you want to build anything meaningful in your life, you need to be ceaselessly devoted to the work that it entails.
How can you deepen your craft, your practice, your awareness? What skills do you have that should be activated in your current situation? Keep learning, keep evolving, and keep doing the work you need to do.
Sign up for weekly updates and get the free ebook,
The Tarot Reader's Daily Companion