I've written interpretations for every card in the Wild Unknown Tarot. As the box of the deck states, there are no rights or wrongs. These are simply my perspectives on the tarot card meanings. I hope you find them useful!
Click here for a directory of all posts in my Wild Unknown series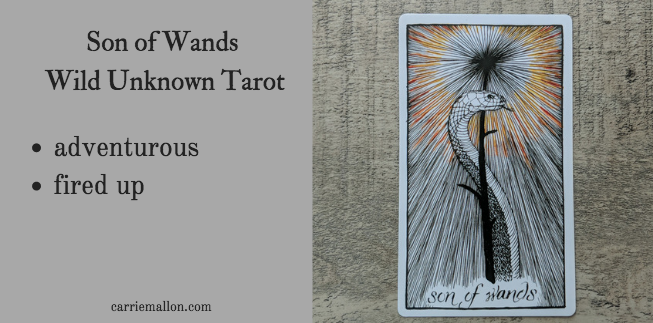 Son of Wands :: Wild Unknown Tarot
Creator's Keywords: charming, adventurous
Carrie's Keywords: adventurous, fired up
Begin or deepen your tarot studies with
Foundational Tarot, my free video course!
Join the email list for instant access.
Son of Wands Tarot Card Meanings in the Wild Unknown
The Son of Wands (titled Knight of Wands in other decks) is a one man victory parade. He is a beacon of self-confidence and assurance. The wand he holds seems to literally be a beacon, sending out heat waves that ripple across the card. The energy is alive and vital, radiating outwards without inhibition.
The angle of his head makes him look like he's marching with some swagger. The extended tongue just adds to this effect. If he could talk, I can almost hear him saying "I do what I want, and I do it well!" Rather or not this attitude is merited is still up for debate!
His self-confidence is admirable, but it also borders on cockiness. He stares straight ahead – he might have a plan, but he certainly doesn't seem to have a back up plan. He's banking on one thing working, and might not have the maturity to deal if it doesn't.
The Son of Wands is constantly seeking new adventures. He isn't someone to stick around when things get boring or stagnant. He's the life of the party, he knows how to be suave (but it can be hard to tell when he's just blowing smoke). He's fired-up about life, and always engaged in one thing or another. His priority is following his next great adventure, but he struggles to enjoy the present moment. He's always up for a good time – but he might be gone before you know it!
Knight of Wands Tarot Card Meanings in General
The knights are the metaphorical teenagers of the court cards. As such, their relationship with the energy of their suit is somewhat inconsistent. Therefore the Knight of Wands is full of enthusiasm for life, but may also be restless or easily agitated. He is willing to take risks, but sometimes those risks get him burned. He can be charming and attractive, but might not stick around when things get boring!
As a court card, the Knight of Wands can represent a specific person, an aspect of personality, or an approach to life. Consider how this card's approach might be helpful, but also be aware of the less beneficial aspects of this energy. For more guidance on working with court cards, see this post. 
In a reading
This card can suggest that you need this type of fired up, adventurous energy in your life. What feels hot to you right now? How can you dive headfirst into what lights you up? March towards excitement, but be cautious of the implications of your actions.