I've written interpretations for every card in the Wild Unknown Tarot. As the box of the deck states, there are no rights or wrongs. These are simply my perspectives on the tarot card meanings. I hope you find them useful!
Click here for a directory of all posts in my Wild Unknown series.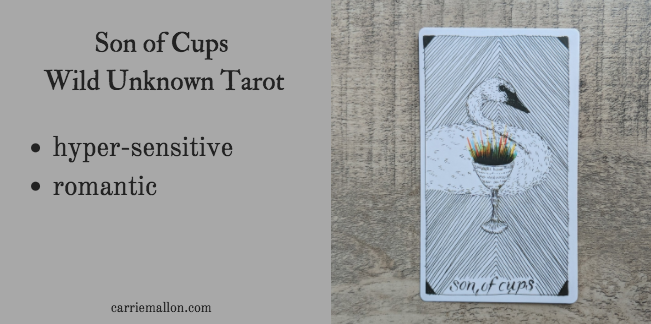 Son of Cups :: Wild Unknown Tarot
Creator's keywords: peaceful, introspective
Carrie's keywords: hyper-sensitive, romantic
Begin or deepen your tarot studies with
Foundational Tarot, my free video course!
Join the email list for instant access.
Son of Cups Tarot Card Meanings in the Wild Unknown
The Son of Cups (often called the Knight in other decks) still has some of the child-like innocence of the daughter, but brings new levels of complexity. While the Daughter of Cups seemed to be in stable water, the lines in the background of this card are slanted. He inhabits a more varied, multi-dimensioned emotional sphere.
The Daughter faced us head on, while the son is gazing to the right. Instead of a rainbow of color in the water, the son has a rainbow of color coming forth from his cup. He's a little more reserved with his emotions than the daughter. He holds them closer so that he can examine and understand them. He still sees the poetry in life. He is still drawn to self-reflection and beauty. But he can also be prone to dark moods and hurt feelings.
I view the Knights/Sons as embodying paradoxes, flip sides of a coin (I wrote a more detailed explanation of the court cards here). In this vein, the Son of Cups is introspective, but that can turn into being self-indulgent. He is poetic, but that can turn into being sappy. He is sensitive to the point of being hyper-sensitive. He is intuitive, but that can turn into ignoring logic. Essentially, the Son of Cups is still learning to handle the spectrum of his internal world.
Knight of Cups Tarot Card Meanings in General
The Knight of Cups is often described as a sensitive soul. He certainly has a romantic way of looking at the world, gravitating towards drama and a flood of emotions. This can be a beautiful thing, as he teaches you to fling yourself straight into the direct experiences of your emotions. However, it can also present a challenge as he is not the best at maintaining perspective and clear thinking.
The Waite-Smith tarot Knight of Cups rides a white horse, another symbol of his romantic nature. This card reminds you how potent it is to connect deeply with life, but make sure you don't lose yourself in the rolling tide. 
In a reading
This card can ask you approach a situation with sensitivity, imagination and compassion. This card can also call you to examine your deeper feelings and motivations. Is the emotional energy at work within you healthy? Or is it bubbling wildly? The Son of Cups offers you the chance to hone your skills in navigating your emotional landscape.