I've written interpretations for every card in the Wild Unknown Tarot. As the box of the deck states, there are no rights or wrongs. These are simply my perspectives on the tarot card meanings. I hope you find them useful!
Click here for a directory of all posts in my Wild Unknown series.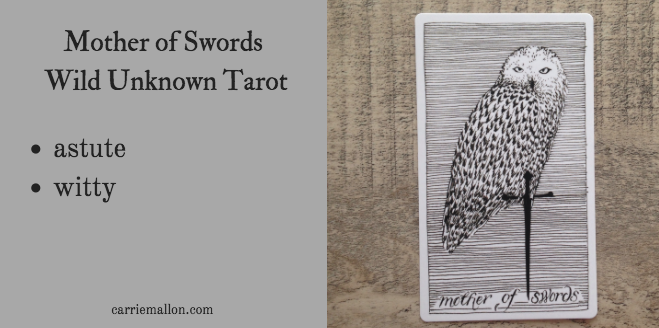 Mother of Swords :: Wild Unknown Tarot
Creator's keywords: experienced, all-seeing
Carrie's keywords: astute, witty
Begin or deepen your tarot studies with
Foundational Tarot, my free video course!
Join the email list for instant access.
Mother of Swords Tarot Card Meanings in the Wild Unknown
An appropriately regal looking snowy owl is perched upon a sword. She looks out at us with a knowing expression. Her symmetrical feathers and over the shoulder gaze lend to her air of dignity. 
The card is entirely black and white. This seems befitting for the Mother of Swords because she prefers things to be drama free. What you see is what you get. The background lines are clean and straight. She will not tolerate shadiness and is quick to call anyone (including herself) out on their nonsense.
As a court card, the Mother of Swords shows personality traits and approaches to life. For a comprehensive explanation of how court cards function in tarot, check out this post. The Mother of Swords has a high level of mastery over the air element. This manifests in her clear communication, sense of humor, and no bullshit approach to life.
Notice how she perches calmly on her sword, as opposed to the Son who clung to his sword with force. She has nothing to prove to anyone, her main priority is that she is living in line with her beliefs and knowledge. This isn't to say she won't gladly share her opinions, but she shares them with an internal sense of self-assuredness. 
Because of her adeptness, nothing gets by her. She is not easily fooled, and she can quickly grasp the core of any situation she's thrust into. She is adaptable and able to adjust to new information. She doesn't suffer fools, but she isn't unkind. She has a keen understanding of life and can be an excellent teacher.
Queen of Swords Tarot Card Meanings in the Wild Unknown
Most decks use the title Queen of Swords for this card. Queens can be thought of as the "inwardly mature adults" of the tarot. The Queen of Swords embodies authenticity. She knows who she is and she shows up in the world as who she is. She is also a master at delivering knowledge with a sense of humor – you could say she'd be one of those people who always busts out the right hilarious gif at just the right time.
Unlike the Son of Swords who thinks he knows it all despite his relative inexperience, the Queen actually has the experience to back up her stances. Everything in life is a learning experience to her, and she finds incredible value in understanding herself, society, and the universe as a whole.
In a reading
The Mother of Swords can ask you to consider how her traits might be at work in your situation. At her best, the Mother of Swords can be delightfully witty, clever, and helpful. Instead of seeing the world through rose colored glasses, this card reminds you that sometimes you need to embrace the beauty of being a realist.