I've written interpretations for every card in the Wild Unknown Tarot. As the box of the deck states, there are no rights or wrongs. These are simply my perspectives on the tarot card meanings. I hope you find them useful!
Click here for a directory of all posts in my Wild Unknown series.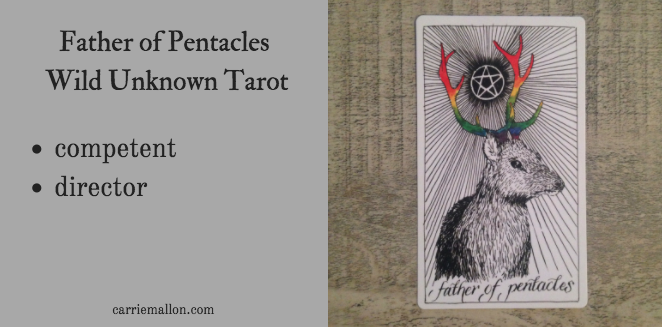 Father of Pentacles :: Wild Unknown Tarot
Creator's keywords: steady, entrepreneurial
Carrie's keywords: competent, director
Begin or deepen your tarot studies with
Foundational Tarot, my free video course!
Join the email list for instant access.
Father of Pentacles Tarot Card Meanings in the Wild Unknown
An adult male deer looks out at his surroundings. It's hard not to immediately notice his rainbow colored antlers. When the entire color spectrum shows up in a Wild Unknown card, it isn't an accident. The Father of Pentacles is complete, present and multifaceted.
Black lines emanate out, drawing towards (or originating from) the black pentacle between the father's antlers. These pulsating lines show a more dynamic energy. While the Mother of Pentacles mainly directs her energy inward (towards addressing and understanding the roots of problems), the father directs his energy outwards (he is more concerned with solutions than causes).
He is one of those rare characters who seem to be completely secure in their own worth. He stands with his head held high and a sense of pride seems to emanate from him. He would never try to hide his antlers away. He has a positive self-image (not to be confused with an overly inflated ego). He has no qualms about who he is or what he stands for.
And he has earned this healthy self-esteem. He works hard to create results. He is a competent leader; not one to just watch from afar, he wants to make a real impact on the world. He has an innate business sense. He offers support to the external world, directing others in their pursuits. But he walks his talk and works steadily to meet his own goals. Like the Mother, he is reliable and straight-forward.
King of Pentacles Tarot Card Meanings in General
Most decks call this card the King of Pentacles. As a court card, this card may draw your attention to an aspect of your personality, or the approach of someone else in your life. For a more detailed explanation, check out this post I wrote all about how to read court cards. 
As the culmination of the courts, the King is highly proficient in the energy of his suit. The King of Pentacles is a master of the material realm. I sometimes think of the King of Pentacles as a metaphoric CEO – someone who has a firm handle on all aspects of life. He is an expert at strategizing and coming up with plans, and is concerned with real-world results. 
In a reading…
This card can ask you to consider how the Father of Pentacles' personality traits are playing out in your situation. Consider how consistency and reliability are being portrayed by yourself and others. If you're facing challenges, consider what competencies you've developed that could be useful. Focus on solutions and step fully into your self-worth. Accentuate what you CAN do and own your abilities!