I've written interpretations for every card in the Wild Unknown Tarot. As the box of the deck states, there are no rights or wrongs. These are simply my perspectives on the tarot card meanings. I hope you find them useful!
Click here for a directory of all posts in my Wild Unknown series.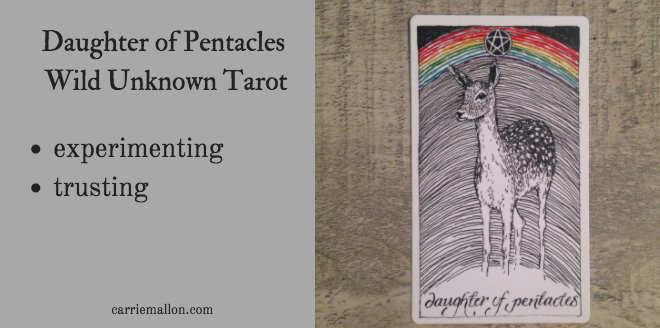 Daughter of Pentacles :: Wild Unknown Tarot
Creator's keywords: responsible, kind
Carrie's keywords: experimenting, trusting
Begin or deepen your tarot studies with
Foundational Tarot, my free video course!
Join the email list for instant access.
Daughter of Pentacles Tarot Card Meanings in the Wild Unknown
A fawn stands on a hilltop, gazing out at her surroundings. A rainbow arches above her, and the dark lines below carry this effect to the card's bottom. A single pentacle is poised in the rainbow's center.
The fawn's legs might still be a little shaky, but she is ready to go out and make her mark. She looks out with a sense of realistic optimism. She still has much to learn, but she also has an inherent knowing that she is well equipped to succeed.
The Daughter of Pentacles is not just a planner – she is a doer! She is eager to explore her surroundings, to consider (and create) her influence on the world. She doesn't waste energy wishing she was further along. She accepts where she is, and makes the most of the resources at hand.
It is true that she is still young, and like the Fool may be a little naive. She hopes for the best and takes accepts things at face value. She is willing to offer a kind word and a helping hand to those who need it.
She's not one to be reckless, but she's also not one to overly prepare. She's interested in the process of trial and error, observing the effects that different actions produce. She has a hands on approach in all matters.
As a court card, the Daughter of Pentacles might represent you or another person in your life. Court cards show different aspects of personality, and different approaches to life. For a more detailed explanation, check out this post I wrote all about how to read court cards.
Page of Pentacles Tarot Card Meanings in General
Although the Wild Unknown has chosen to call this card 'Daughter of Pentacles,' the most common title is 'Page of Pentacles.' The Page/Daughter is the onset of the courts, and as such can be thought of as a beginner, just getting the hang of the pentacles energy.
As pentacles are associated with the element of earth and the material realm, the Page of Pentacles is interested in learning more about this energy. This card has a child-like approach to interacting with the suit, and is open-minded in her approach. She is optimistic about learning new skills and interested in all that the physical world has to offer.
In a reading…
When you see a court card in a reading, it is often asking you to consider how you might embody the traits of that card. This card can ask you to accept where you are, use what you've got, and be resourceful. What are you currently doing that is highly effective? Keep that up! And on the other hand, where do you feel insecure? What can you do to keep building your skills and confidence?
You've still got a lot to learn, but you're always gaining useful experience. Take ownership for your own progress. Keep your heart in the right place and stay willing to grow. You've got this!