Greetings from my balcony, upon which I am drinking a delicious cold brew herbal tea (kava, lemongrass, oat tops, ginger and rosemary), while Lulu rolls around in the dust and sniffs dried bird poop (sorry 'bout that – the bird feeders are right above the balcony, you see). It's not exactly the most Instagram-approved moment, but it's a pretty damn good moment if you ask me.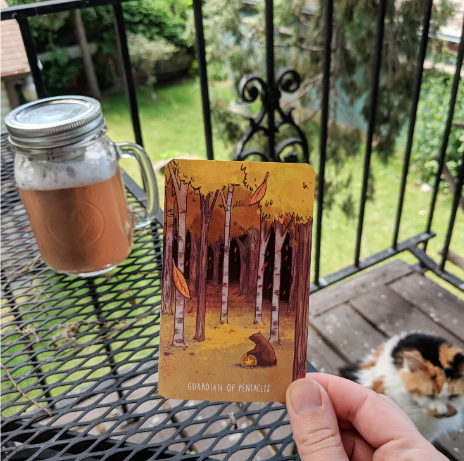 Just over five years ago, when I started my business, I did a reading for myself. I drew three cards, asking what I might expect my business to look like in six months, one year and five years. I can't remember the first two cards, but I've never forgotten the third card. It was the Queen of Pentacles.
So now here I am, five years on, and I do feel like I'm becoming the Queen of Pentacles. There are many layers of complexity and nuance to this. The most obvious sense – and the thing I thought of when I saw this card five years ago – is income. To be completely honest, I've never made much, but you generally don't become a tarot reader to get rich. My earnings are still pretty modest, but I do feel more secure and stable these days, which is a very welcomed sensation.
Maybe this is a good point to talk about how FREAKIN AWED I AM at the reception of The Spacious Tarot on Kickstarter. For months before we launched I was haunted with the notion that we might not reach our financial goal at all. Well, we did. In fact, we met it only two hours after launching the 30 day Kickstarter campaign.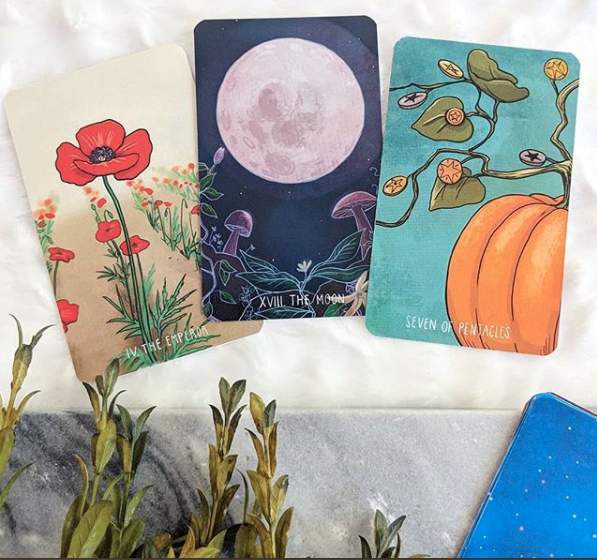 I mean… WHAT?! It's been almost a week now, but I'm still trying to process this. It's pretty amazing. Like, that's an understatement. It is one of the most surreal and incredible experiences of my life. THANK YOU to all who have shown support in any way: backing the project on Kickstarter, reaching out with encouraging comments, or helping us spread the word. We could absolutely not do this without your support.
Now that we've met our initial goal, it is a guarantee we can move forward with printing and distributing decks (YAAAAY!) the extra income we're generating via Kickstarter will be used to make the project even better. We're already brainstorming fun bonuses for our backers, plus we're planning to invest in some behind-the-scenes stuff to improve the quality of the deck (a copyeditor for the guidebook and maybe a graphic designer, perhaps someone to help with distribution, etc).
On that note, if you want a copy of the deck and have not yet reserved on Kickstarter, our campaign is still going for another 24 days. We do plan to sell the deck on our website at some point in the future, but that's likely a way out. So right now, if you want a copy of The Spacious Tarot, backing on Kickstarter is the way to go.
Anyhow. Becoming the Queen of Pentacles means a lot more than just earning some coin (and to be frank, it will likely be a while before Annie and I to see personal profits from the deck, as much of what we're raising right now will be invested back into the business).
Lately, for me, becoming the Queen of Pentacles (or Guardian of Pentacles, as the card is titled in our deck) also looks like:
-Refining my existing skill sets and deciding what new things are worth learning. I've learned a LOT of new things while launching the deck: about selecting printers, about offering physical products instead of just services, about creating and managing a crowdfunding campaign…the list goes on.
-Finding the right balance of actively building things up while also letting things grow at their own organic pace. A lot of this involves my relationship with "marketing." Ugh, a businessy word, but really, marketing is just letting people know about what you're making. Right now I'm inhibiting this interesting space where part of me wants to market the HECK out of our deck and get the word out there in big ways. Then the other part of me wants to take a quieter approach, letting the cards make their way into the world at their own pace and trust that they'll find who they most resonate with.
-Choosing to focus more of my time on the projects that matter the most to me. This part hasn't been particularly easy, as I've had to make the tough decision to put my client services on a long hiatus while I work on the deck. I really, really miss working with you guys. A few people have emailed me lately asking when I'll be available again, and it puts a little ding in my heart every time I turn someone away. But at the same time, client sessions take up a lot of time and energy. And any Queen of Pentacles worth her salt respects the fact that her time and energy are finite. Oh, and by the by, I'm really hoping to open up client services again at the end of July or early August – I'll keep you posted.
And perhaps more than anything, becoming the Queen of Pentacles has meant deeply sensing in to how I want my business to grow from here. What do I want to build next? How can I best prioritize my endeavors going forward? What do I want my work to look like five years from now? I'm not certain of the answers, but I have some ideas, and I'll keep sitting with the questions, listening to the Universe, and doing the work to find out.
Sign up for weekly updates and get the free ebook,
The Tarot Reader's Daily Companion