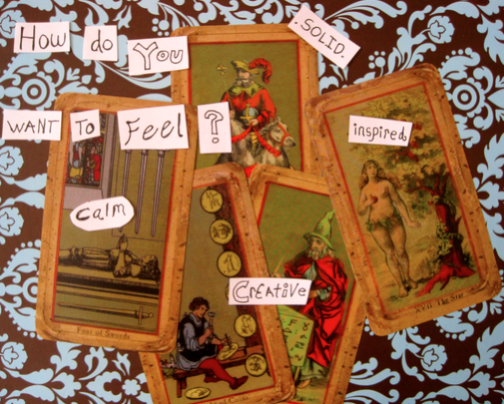 Have you ever wondered how the Magician feels? I'd say alert. Focused. Powerful. Creative. How about the woman on the Two of Cups? Maybe she feels supported. Engaged. Connected.
Look through your deck and imagine how each of the characters feels. Try to become the character and experience their feelings directly. There are no right answers, and your interpretation may change depending on the deck (or the day)! You can take inspiration from traditional tarot card meanings, but your intuition is key here. This is a great way to deepen your relationship to your cards, and it can also help you to create those feelings in your own life.
Danielle LaPorte lays out a revolutionary concept in The Desire Map: everything we do is in an attempt to feel a certain way. It seems simple enough, but until I discovered Danielle's work, I'd never consciously thought about how I most want to feel. Her book (which I adore and highly recommend) guides you through the desire mapping process in-depth.
Once you are clear on how you want to feel, you can make decisions and set intentions to create these feelings. It's not about feeling good someday when you've reached a far-away goal – it's about feeling the way you want to feel here & now.
Tarot is a great way to identify and experience the feelings you desire. Here are the five steps I've created & used to desire map with tarot – try them for yourself!
Make a list of four or five (or more) feelings you most want to feel.
This free worksheet will help you get things rolling. You can also shuffle your cards while asking them to help you identify how your core desired feelings. Draw 3-5 random cards and jot down the ideas they give you. My core desired feelings are: calm, inspired, creative, solid.
Look through your Tarot deck & choose one or two cards to represent each of your desired feelings. I chose my cards consciously, but you could also use the random cards selected in the first step, if you prefer. My cards are Four of Swords (calm), The Star (inspired), the Magician & Eight of Pentacles (creative), and The Chariot (solid).
Put a list of your desired feelings & a picture of your chosen cards somewhere visible. You want to keep these at the forefront of your awareness, so place them somewhere you'll see them frequently. Maybe a sticky note on your computer or in your day planner. Now you will have a constant, visual reminder of how you want to feel.
When you make choices (even small ones) remind yourself of your chosen cards.Consider how your choice will affect your feelings. Let's say one of your cards is the King of Pentacles because you want to feel vital. You might look at this card and decide not to eat a bowl of ice cream because you know that would make you feel sluggish, the opposite of your desired feeling.
Meditate with your cards to harness their energy. This is especially useful when you are feeling the opposite of how you'd like to feel. Meditating with your Tarot card can be as simple as sitting quietly for a few moments, gazing at your card while taking a few belly-breaths. Invite the energy of the card to merge with you.
How do you want to feel? Which cards represent these feelings for you? I'd love to hear your thoughts in the comments below.
Sign up for weekly updates and get the free ebook,
The Tarot Reader's Daily Companion