I've written interpretations for every card in the Wild Unknown Tarot. As the box of the deck states, there are no rights or wrongs. These are simply my perspectives on the tarot card meanings. I hope you find them useful!
Click here for a directory of all posts in my Wild Unknown series.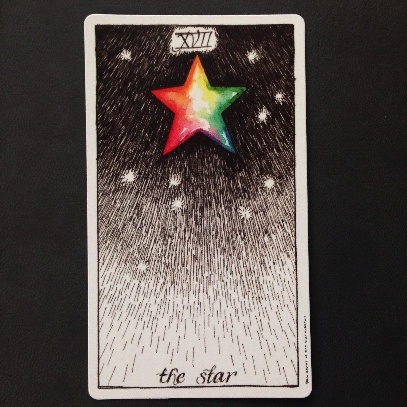 The Star :: Wild Unknown Tarot
Creator's Keywords: hope, peace of mind, generosity
Get a deeper perspective on the unfolding of your life.
I offer private tarot readings and mentoring sessions. Let's work together! Explore options
Way up in the dark of night, one star glows and glimmers spectacularly. Ten smaller stars are scattered about, but the center star commands attention. This star is adorned with the colors of the rainbow, blending into one another. This gives the star an air of whole, healing energy. All colors are present, all colors are even, and they are contained safely within the star. All is as it should be.
The Star gives its light freely, without holding back. But it is also unassuming. The star draws attention quietly, with a sort of serene power. A beautiful, calming influence is present in this card. This star is a reminder that hope is present even in the darkest of nights.
The positioning of the bright star is near the top of the card, and the lines on the card draw our attention upward. The lines are sparser at the bottom of the card, and get darker and darker as they near the top, giving the visual effect that we are standing far below, looking up at this glowing beacon of hope.
As with many images in the Wild Unknown, there is a simplicity to the star. It isn't weighed down with heavy symbolism or overwhelming imagery. After enduring the chaos of the Tower, we reach the peaceful, smooth reprieve of the Star.
Sign up for weekly updates and get the free ebook,
The Tarot Reader's Daily Companion