I've written interpretations for every card in the Wild Unknown Tarot. As the box of the deck states, there are no rights or wrongs. These are simply my perspectives on the tarot card meanings. I hope you find them useful!
Click here for a directory of all posts in my Wild Unknown series.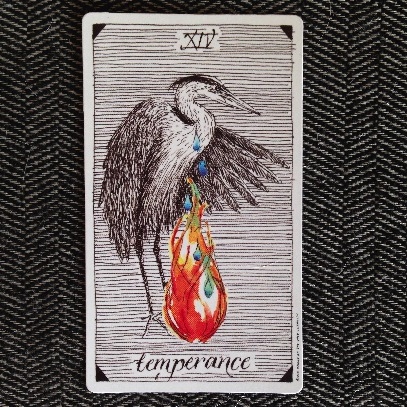 Temperance :: Wild Unknown Tarot
Creator's Keywords: healing, renewal, balance
Get a deeper perspective on the unfolding of your life.
I offer private tarot readings and mentoring sessions. Let's work together! Explore options
A heron stands with one wing outstretched as if to protect the orange flames in front of her. Blue water droplets descend to meet the flame, but neither destroys the other. The heron has a moderating effect over the seemingly contrasting elements.
Forces that seem to be opposites can be brought together with a blend of skill, patience and magic. This is the energy we see at work in the Temperance card. If left unchecked, fire and water will destroy each other. But in this image they get along beautifully.
I get a sense that the heron is 'tending' the flames and droplets. Through her influence, both are able to thrive in measured proportions. She knows that equilibrium is the key to well being.
This card also hints at transformation. By bringing together different energies in just the right proportions, something wonderful can emerge. We can apply these lessons in the external world, as well as our inner world.
We create our own unique magic when we skillfully blend the contradicting elements of our psyche.
The card's background is filled with horizontal lines. In the Wild Unknown, horizontal lines seem to indicate energy that is stable (as opposed to the emanating lines of the Magician or the Chariot). This adds to the sense of calm and healing we traditionally associate with Temperance.
Sign up for weekly updates and get the free ebook,
The Tarot Reader's Daily Companion