I've written interpretations for every card in the Wild Unknown Tarot. As the box of the deck states, there are no rights or wrongs. These are simply my perspectives on the tarot card meanings. I hope you find them useful!
Click here for a directory of all posts in my Wild Unknown series.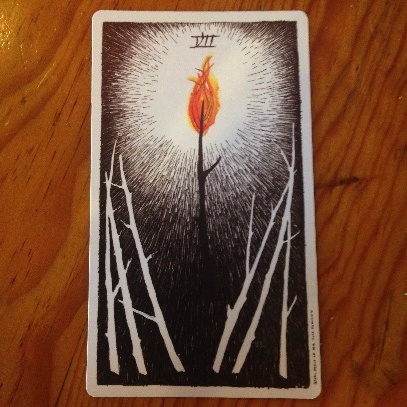 Seven of Wands :: Wild Unknown Tarot
Creator's Keywords: courage against odds
A tarot reading meets you where you are and aligns you with opportunities for transformation.
Together, we'll create a space for you to reconnect with your inner wisdom and align with your unfiltered truth. I'm currently booking a limited number of one-on-one clients for June 2018. 
Learn More
One wand stands ablaze above its companions. The flame radiates a white light, piercing through the surrounding darkness. The six remaining wands lean away from the central wand. They seem taken aback by this sudden display of pyrotechnics.
There are times to rise above adversity peacefully with your head held high, as we saw in the previous card. But this card reminds us that there are also times when you need to let loose a surge of adrenaline. Sometimes you've got to ignite your fighting spirit. Sometimes you've got to stand up fiercely for who you are, what you want, and what you believe in.
We all have our limits with how much we'll put up with. The Seven of Wands wants you to learn not to take any shit. Don't be silenced. Don't give up. Don't sit quietly by doing what everyone else is doing. Be brave and bright, be engulfed by your true power!
However, it's also important not to light up like a fire cracker only to have your adrenaline rapidly fizzle out. The Seven of Wands shows a sort of fight or flight mentality. It's a quick burst of conviction – just monitor your energy carefully to make sure you don't crash and burn.
Sign up for weekly updates and get the free ebook,
The Tarot Reader's Daily Companion