I've written interpretations for every card in the Wild Unknown Tarot. As the box of the deck states, there are no rights or wrongs. These are simply my perspectives on the tarot card meanings. I hope you find them useful!
Click here for a directory of all posts in my Wild Unknown series.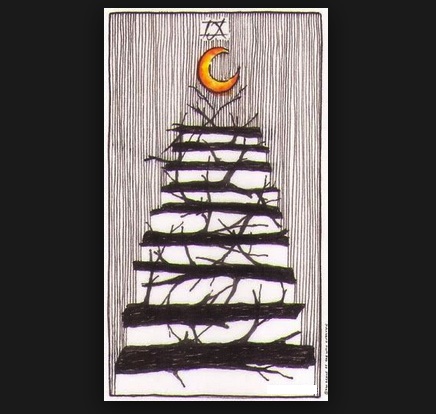 Nine of Wands :: Wild Unknown Tarot
Creator's Keywords: inner strength, stamina
A tarot reading meets you where you are and aligns you with opportunities for transformation.
Together, we'll create a space for you to reconnect with your inner wisdom and align with your unfiltered truth. I'm currently booking a limited number of one-on-one clients for June 2018. 
Learn More
A stack of wands starts at the bottom of the card, narrowing as it leads upwards. Each wand gets smaller than the last, giving the effect of a stairway or a narrowing tunnel. The wands are unruly, branches jutting about. A yellow-orange crescent moon is suspended at the pinnacle.
The wands are noticeably thicker here than in any of the previous cards in the suit. In fact, they look almost like logs! They are sturdy, they are solid and fixed. These are wands that are built to survive a stomping.
The rest of the card is lined with simple, verticle black lines. It is rare to see vertical lines in the Wild Unknown. They seem to be adding to the solid, protective feel of the card, providing steady, defensive energy.
When I look at this card, I image the wands as a sort of fortress surrounding the moon. Are the wands trying to entice someone to climb their way up to the moon, or are they trying to protect the moon from intruders? Either way, they seem to serve an enduring support system.
The Nine of Wands shows that sometimes we need to draw on our inner reserves. We need to protect what is important to us, we need to protect our energy. We need to keep going, even though we may feel a little tired from being so on-guard. This kind of perseverance can be admirable, but can also lead to weariness.
Sign up for weekly updates and get the free ebook,
The Tarot Reader's Daily Companion