I've written interpretations for every card in the Wild Unknown Tarot. As the box of the deck states, there are no rights or wrongs. These are simply my perspectives on the tarot card meanings. I hope you find them useful!
Click here for a directory of all posts in my Wild Unknown series.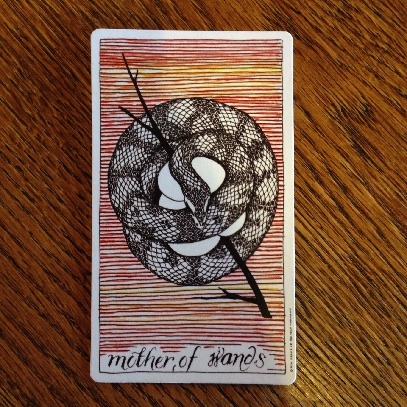 Mother of Wands :: Wild Unknown Tarot
Creator's Keywords: attractive, vibrant
The Tip Jar
If you find value in my work, consider contributing to the tip jar. Your support helps me continue to provide free content, pay for web hosting, and indulge in the occasional cup of tea. Much gratitude!
Give any amount
A snake curls protectively around a nest of eggs, a wand held at an angle seems to serve as added armor. This mother is someone you wouldn't want to mess with. Although she can be kind and warm, she is fierce and loyal, and not afraid to stand her ground.
She holds her values dear to her heart and isn't afraid to live in a way that lines up with her moral code. She doesn't do anything halfway – she's in it to win it. She pours all of her love, originality and unique energy into everything she does. She is a true artist, more mature than the son or daughter.
The background is filled with horizontal lines, colored throughout with orange and red. It gives the Mother of Wands a strong, stable energy. She is so vibrant that she almost has an energy field around her. But unlike the emanating energy of the Son of Wands, her energy is steady. She channels her energy in a more effective way.
More so than any other depiction of the Queen/Mother of Wands, this card gives me the impression of someone who holds their beliefs dearly. She's willing to fight for what she knows is right. Even so, she knows how to have fun. She has a strong life force, a kind of palatable cheeriness that draws others to her.
In a reading, the Mother of Wands asks you to practice gratitude and protect the things that matter to you. Keep your attitude bright and good things will come your way. Live with your whole heart. You're not here to half-ass things. Let your zest for life color everything you do!
Sign up for weekly updates and get the free ebook,
The Tarot Reader's Daily Companion