I've written interpretations for every card in the Wild Unknown Tarot. As the box of the deck states, there are no rights or wrongs. These are simply my perspectives on the tarot card meanings. I hope you find them useful!
Click here for a directory of all posts in my Wild Unknown series.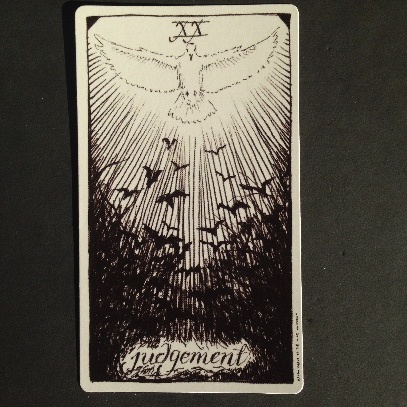 Judgement :: Wild Unknown Tarot

Creator's Keywords: rebirth, forgiveness, awakening
Get a deeper perspective on the unfolding of your life.
I offer private tarot readings and mentoring sessions. Let's work together! Explore options
An angelic-looking white bird, possibly a dove, draws attention from the upper portion of the card. Rays of light surround his outstretched wings. He has a serene, welcoming, all-encompassing energy.
A flock of small black bats are rising to meet the open-winged embrace of the white bird. The card is entirely black and white, making use of the contrast of light above and dark below.
The closer we get to the bottom of the card, the more the bats blend into the darkness. The bats have been slumbering, entrenched in darkness below, waiting for something to inspire them to emerge into the light. The bats are now ready to awaken, be more fully alive, to respond to a higher calling.
The angelic bird welcomes the bats without discernment. He seems to say "Come on up. I welcome everyone. Your past mistakes are in the past. You are forgiven. You can begin again. You can choose to soar into the light, and I will embrace you."
And the bats are responding "YES! I'm ready and here I come."
Sign up for weekly updates and get the free ebook,
The Tarot Reader's Daily Companion