Hey there,
This has become my greeting for everyone I talk to lately: I hope you're doing as well as possible with the current circumstances.
Last week I did an Instagram live and talked a lot about the Tower. It's a card I've been thinking about a lot lately and it's come up a few times in my recent daily draws. It certainly does feel like we're in a Tower moment, collectively.
And I don't have to tell you that being in the energy of the Tower isn't exactly fun. It's jarring, and scary, and chaotic.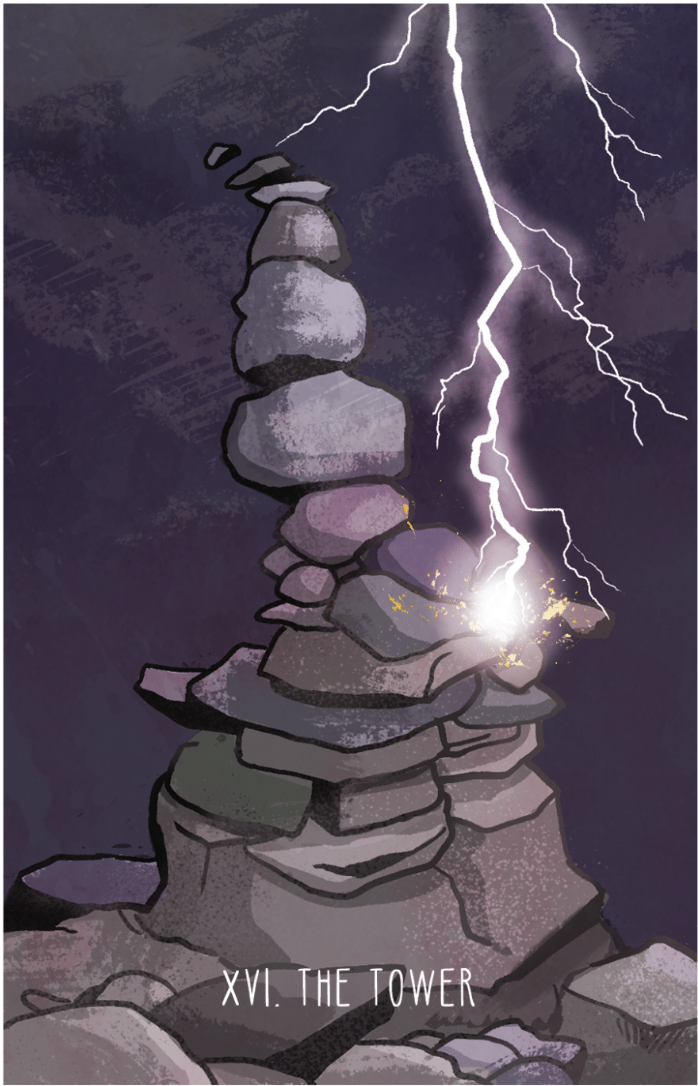 I also talked about how I've been finding inspiration from Martha Beck lately. In her book Finding Your Way in a Wild New World she outlines four 'squares' we go through when dramatic change happens. Right now, we're in square one. That's the part when, well, shit is basically falling apart and you're like WTF.
But here's a weird fact about me: The Tower is one of my favorite tarot cards. Because as much as it represents breakdowns, it also represents breakthroughs. As Martha Beck says:
"This is a time when familiar things are crumbling—but as they do, rigidity gives way to fluidity, and inspired new ways of living can emerge.
There are many things we can't control. However, we can make conscious choices that will move us from fear to courage, from despair to creativity. We can reimagine this moment as an unprecedented opportunity to bring positive change to our world."
By the way – these quotes are from a free masterclass Martha hosted a couple of weeks ago which you can watch by registering for her email list here if this sounds interesting. I'm not an affiliate, just passing along something that resonated with me.
In my last post I mentioned that it feels important for me to be even more devoted to my witchiness lately. One of the most reliable ways to connect to your witchiness is to notice synchronicities. Meaningful coincidences. And I've noticed a few of them in the past week.
First, the synchronicity between Martha Beck's words I quoted above, and the fact that I keep seeing and thinking about the Tower.
Another synchronicity: in the masterclass, Martha talked about a tsunami as a metaphor for dramatic change. Then, this week, I started reading Little Universes, a brand new YA novel by a client + friend Heather Demetrios. The story centers around two sisters whose lives are upheaved when their parents die in…a tsunami.
Heather's book is officially out today (I was lucky to receive an advanced copy!) and of course, she didn't know that a global pandemic would be creating chaos when her book came out, but… it's kind of the perfect book to be reading right now, which is yet another synchronicity. Because although the circumstances are different, the characters are navigating drastic and sweeping change.
One more big synchronicity: I haven't gotten to this part in the book yet, but Heather told me that somewhere in her novel there's a reference to something that reminds her of the Hanged One card from my deck, the Spacious Tarot.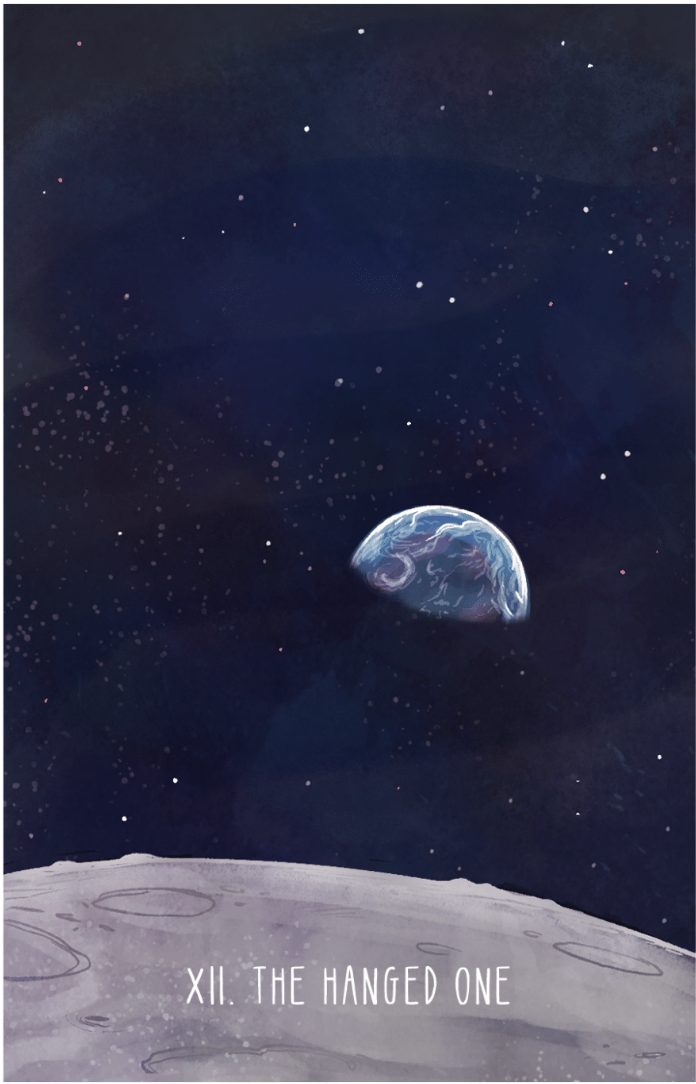 One of the sisters in the book is into tarot, and there are tarot references sprinkled throughout the novel. Not to brag or anything, but Heather says her readings with me were helpful for infusing tarot into the story, which is pretty rad!
Heather was so kind as to share a tarot spread she created, and I'm going to share it with you, too. She uses this spread to get to know her characters, but she's also used it for herself. The spread was inspired by Rumi's quote: "you are not a drop in the ocean, but the ocean in a drop." It's called 'Who Am I' and it's shaped like a wave.
Perhaps you'd like to give this spread a go?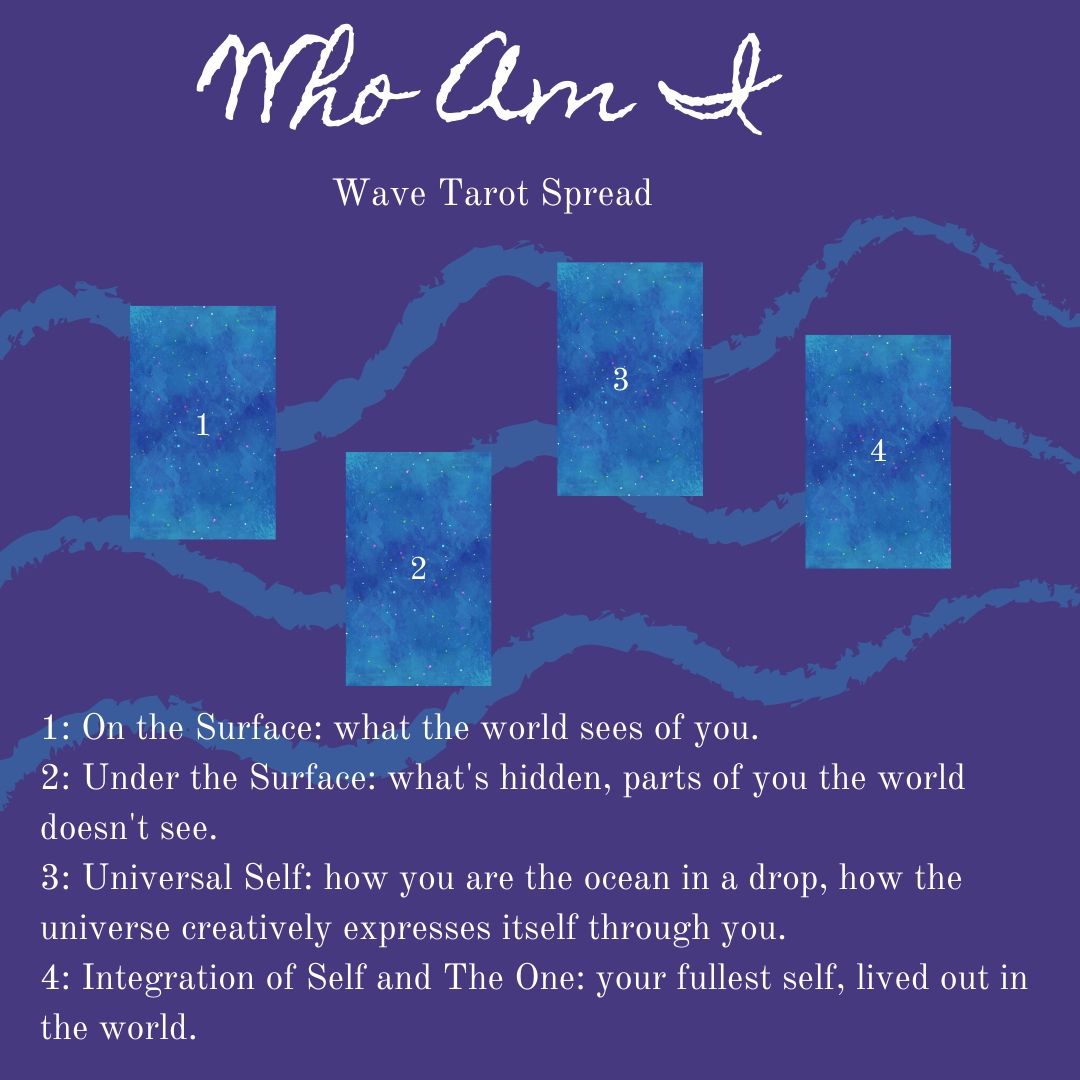 The synchronicities just keep coming, because I feel like I really need this spread right now. Just as the outer world is changing, I feel like I'm changing as well. As within, so without. I thought about doing the spread for myself and sharing it here, but I think this is actually one I will do privately, for now. I have a feeling it's going to bring up some stuff I might not be ready to share publicly yet!
If you have thoughts on the spread or anything else I've shared today, come chat with me in the comments.
And if you're looking for something to read that's both a distraction from our current reality, while also being strangely resonant with reality; and that blends themes of mysticism and science and sisterhood and loss and self-discovery, definitely check out Little Universes.
Sign up for email updates and get
Foundational Tarot, a free video course!