It's hard to decide what to focus on when I talk about the Tarot Coloring Book. First, there's the simple fact that it is a TAROT COLORING BOOK. That alone would probably have been enough to hook me. But wait, there's more! It was written by Theresa Reed (the Tarot Lady), a beacon in the tarot community. And then there's the multiple awesome things I've experienced while working with this book: a reinvigorated relationship with the cards, a mindfulness meditation, and a fresh creative outlet.
I'm going to tell you about this book today, and I have a copy to give away to one lucky person! Details on that at the end of the post.
The Tarot Coloring Book starts with a brief introduction that touches on the history of the cards and how to work begin working with the tarot system, making the book suitable for total beginners as well as seasoned tarot readers. At the heart of the book, all 78 cards from the Rider Waite Smith Tarot deck are presented in black and white. Each card is accompanied by a summary of the meanings and symbols.
How you approach things from here is entirely up to you. Perhaps you'll want to use a traditional deck as a reference, using similar colors to the originals. Or maybe you'll want to buck tradition and go for psychedelic purple skies. Whatever floats your boat!
At the risk of sounding like a total Hierophant, I'm choosing to stay close to the original colors. This is because the Tarot Coloring Book is one of the most efficient tools I have found for deepening a relationship with the Rider Waite Smith deck. A while back, I made a video describing the number one exercise I recommend to strengthen your connection to your tarot cards: going through one card at a time and describing every single detail you see. This is what the Tarot Coloring Book forces you to do – you are required to observe every angle of every card as you infuse them with color. If you are looking for a really engaging way to continue your tarot studies, you can't beat this one.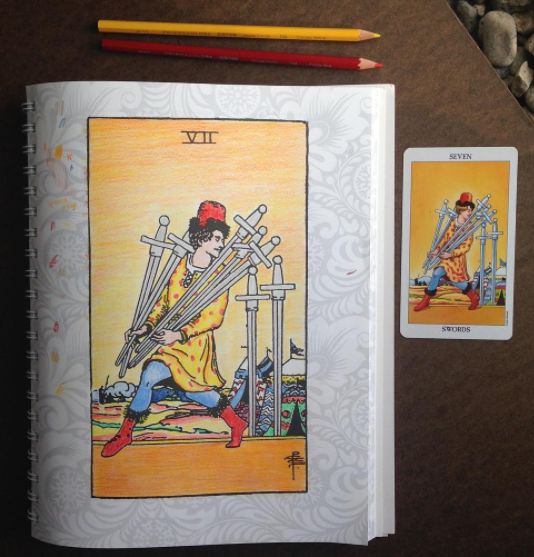 Before I got this book, I was aware that coloring for adults has been a sort of mindfulness trend lately. I'd found myself browsing the coloring section at book stores and running my fingers over boxes of colored pencils, but I never ended up trying anything until now. As it turns out, the Tarot Coloring Book came into my life at a time when mindfulness was more of a challenge for me than ever (right after the US presidential election).
Cozying up to color tarot cards has now become a sacred space for me. My brain's usual constant rumble of thoughts start to slowly even out as I select hues of pink, green and yellow. My inner state becomes more focused and spacious as I press pencil to paper. I experience that harmonious state of being present with the now, engaging my mind as fully as possible with the task at hand. It doesn't sound like much, but it's probably as close as I will ever come to being a zen master.
The Tarot Coloring Book has also asked me to activate my sometimes neglected sense of visual creativity. Most of my creative work involves words: writing blog posts, writing interpretations of tarot spreads, writing social media posts and so on. Coloring asks me to shift into a different creative mode, one that doesn't always feel natural for me but does feel exciting and magical.
As I described earlier, this book has proven to be effective for me on multiple levels. Even after years of working with the Rider Waite Smith deck, I'm re-imagining the imagery. During a period of turmoil in the outer world, I'm finding a more solid connection with my inner world. The Tarot Coloring Book lives in that sweet space between serious self-discovery and serious fun – and that's a space I really enjoy visiting.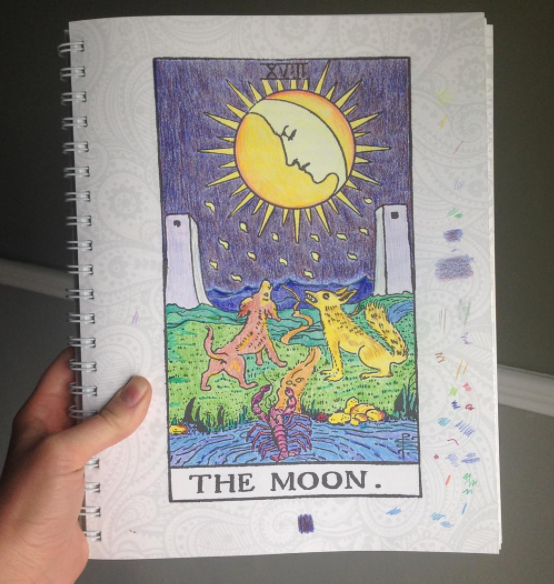 Giveaway time! I'm not even going to ask if you'd like to win a copy of The Tarot Coloring Book because of course you would. This one is only open to US residents (so sorry my worldwide friends! Shipping costs, ugh). To enter, all you've got to do is leave a comment on this blog post. So easy. I'll draw a winner at random on Saturday, March 11 at noon Mountain Time.
If you want to cut to the chase, you can purchase your Tarot Coloring Book through Sounds True
or Amazon.

Book a private reading with me here.
Sign up for fresh blog posts weekly + my free ebook 'The Tarot Reader's Daily Companion'.