So, there's a big thing happening right now which I mentioned in passing in last week's message, but damn it, I'm proud and excited and this deserves its own post.
The second edition of The Spacious Tarot is available to pre-order now!
Use code THESUN for 10% off if you happen to see this message today, June 30 (the code expires at the end of the day).
It's now been one year since Annie & I launched our Kickstarter campaign for this deck. I say this all the time, but the support and enthusiasm you've shown this deck have been amazing. Before we launched on Kickstarter, we didn't even know if there'd be enough interest to fulfill our printer's minimum of 500 decks.
The first edition ended up being a greater success than we imagined, selling out a print run of 2500 decks! I hope I don't sound braggy, but WOW! It's just really an honor to know this many people connect with the deck Annie & I put so much love and time into creating.
It's pretty early in the deck's life to release a second edition, but we liked the idea of making the first edition something special and limited. The changes to the new edition are not at all drastic, but here are a few differences to note:
– Updated spelling on the Three of Pentacles. This card had a small spelling mistake in the first edition which has been corrected for the second edition. We are ordering extra Three of Pentacles cards for those of you who have the first edition and would like an update to your Three of Penatcles – these will be available at the cost of shipping, we will have more info very soon on how to order a replacement.
– A few of the darker cards have been brightened, including the Wheel of Fortune, The Hermit and the High Priestess. The line work on a couple of cards has been very subtly changed (Guardian of Cups, Ace of Cups). The Five of Pentacles is the most noticeable change, it has been reworked so that the creature is more clearly identifiable as a wolf!
– The back of the box has been redesigned (nothing fancy, as is common in tarot decks it will show a sampling of some cards inside).
– The box now features a ribbon for easier card removal!
– The card stock (100% post consumer recycled, 350 GSM) & matte finish will be the same. Although we love the matte finish on the front and back of the first edition cards, the edges turned out kind of rough, so we've worked with our printer on some adjustments for the second edition. The clear matte finish will be extended to the edges, and they're going to ensure the blades used to cut out the cards are super sharp which should improve the quality.
We do ship worldwide from thespacioustarot.com via USPS, however some parts of the world have suspended service at the moment due to the pandemic. Our cart automatically notifies you if we can't ship to your area at this time. Latest updates from USPS are available here.
The deck is also available through UK based Little Red Tarot and Australia based Two Sides Tarot.
Estimated shipping is August 2020. The decks have already finished production and are currently making the long journey from our printer to Spacious HQ (aka my house). Sooooo I better get busy tidying up my guest bedroom because it's about to be overtaken with decks and shipping supplies once again! Here's a flashback to what it looked like while I was shipping out the first edition.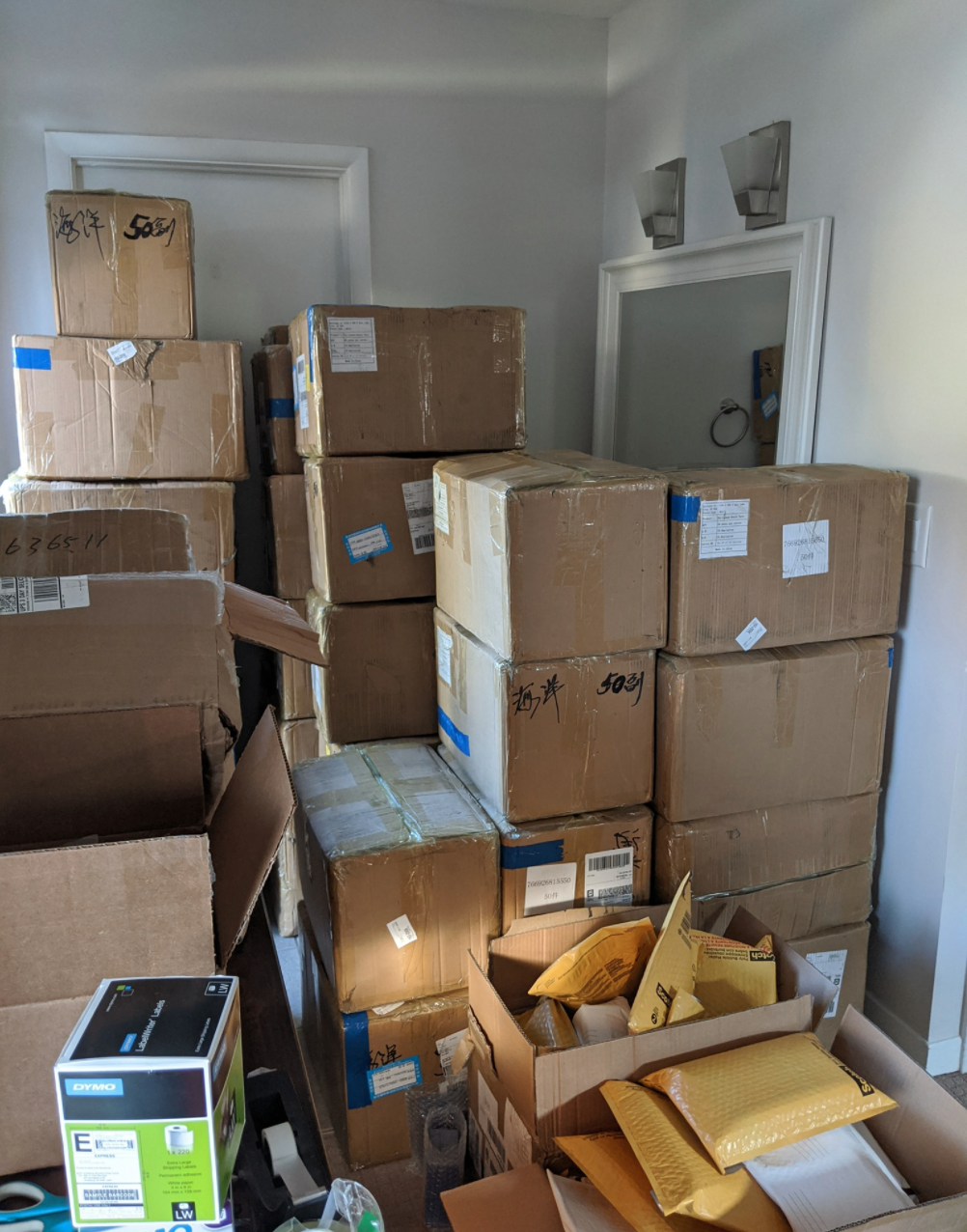 In addition to the deck, there's a few fun bonus items available now: stickers, deck bags (by popular demand), art prints, and enamel pins (100% of profits from the pins will be donated to the Loveland Foundation).
It can't be overstated how much your support of this project means to myself and Annie. This is a small business, a DIY passion project, and really a dream come true. We are super excited to get the second edition in your hands!
Sign up for email updates and get
Foundational Tarot, a free video course!