I got a new deck, Tarot of the Holy Spectrum, and the second I opened it I knew I needed to do a walkthrough video to note some of my initial impressions.
Click here to watch
!
I talk about this in the video, but this is an indie deck I came across on Instagram a while back, and by the time I got around to thinking about purchasing it, the first edition was already sold out. Luckily there's now a second edition, which is what I have here. You'd think as an indie deck creator myself this would be a lesson I'd learned by now: when you see an indie deck you vibe with, buy it immediately, if you can! Because you never know when they may be gone.
Tarot of the Holy Spectrum was created by Chase Voorhees. Chase is married to Lindsay Mack, whom I became acquainted with about a year ago when she reached out to Annie & I with some wonderful praise about our deck, the Spacious Tarot. Through our brief email exchanges, Lindsay and I discovered some very cool synchronicities in how we view tarot. It's an honor knowing Lindsay has and admires the Spacious Tarot, and now I have and admire Chase's deck. He includes a note sharing his gratitude to Lindsay, as her thoughts have greatly informed his process.
The deck is inspired by the Rider-Waite-Smith, but brings some fresh energy and new takes on the cards as well. It doesn't come with a guidebook, giving you lots of room to feel into your own interpretations of the imagery. Of course, you should really just watch the video to hear more and see every card! But here's a little peek + some additional things I noticed after filming the video.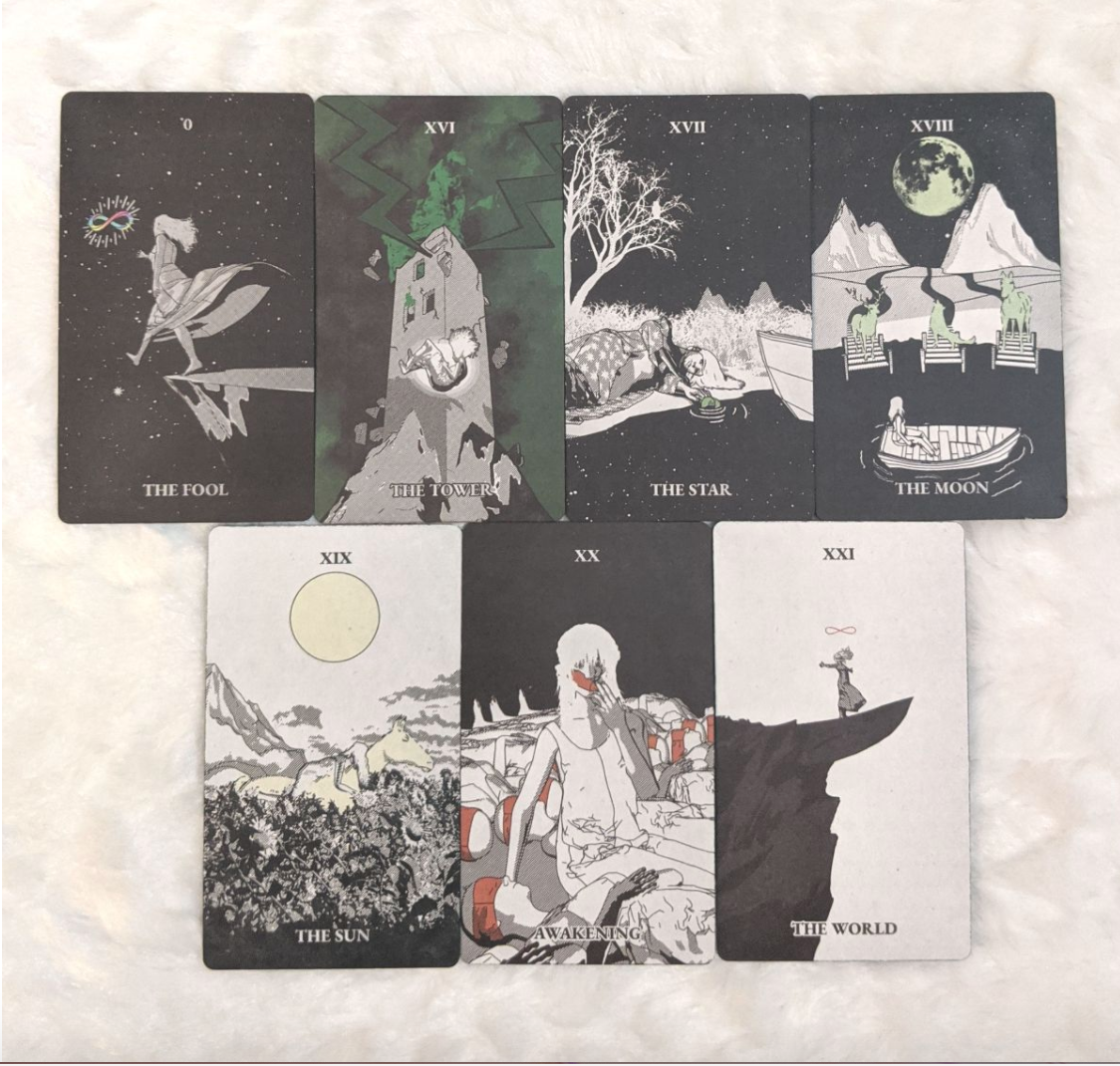 The first thing you'll notice about this deck is the use of color. The major arcana is somewhat reminiscent of the Wild Unknown, featuring primarily black and white with strategic splashes of color. The minor arcana cards each have their own color spectrum that unfolds throughout the suit.
It was only after filming the video I realized many of the major arcana cards seem to feature the same character. In particular, I see a story unfolding from The Tower to Awakening (the retitled version of Judgement).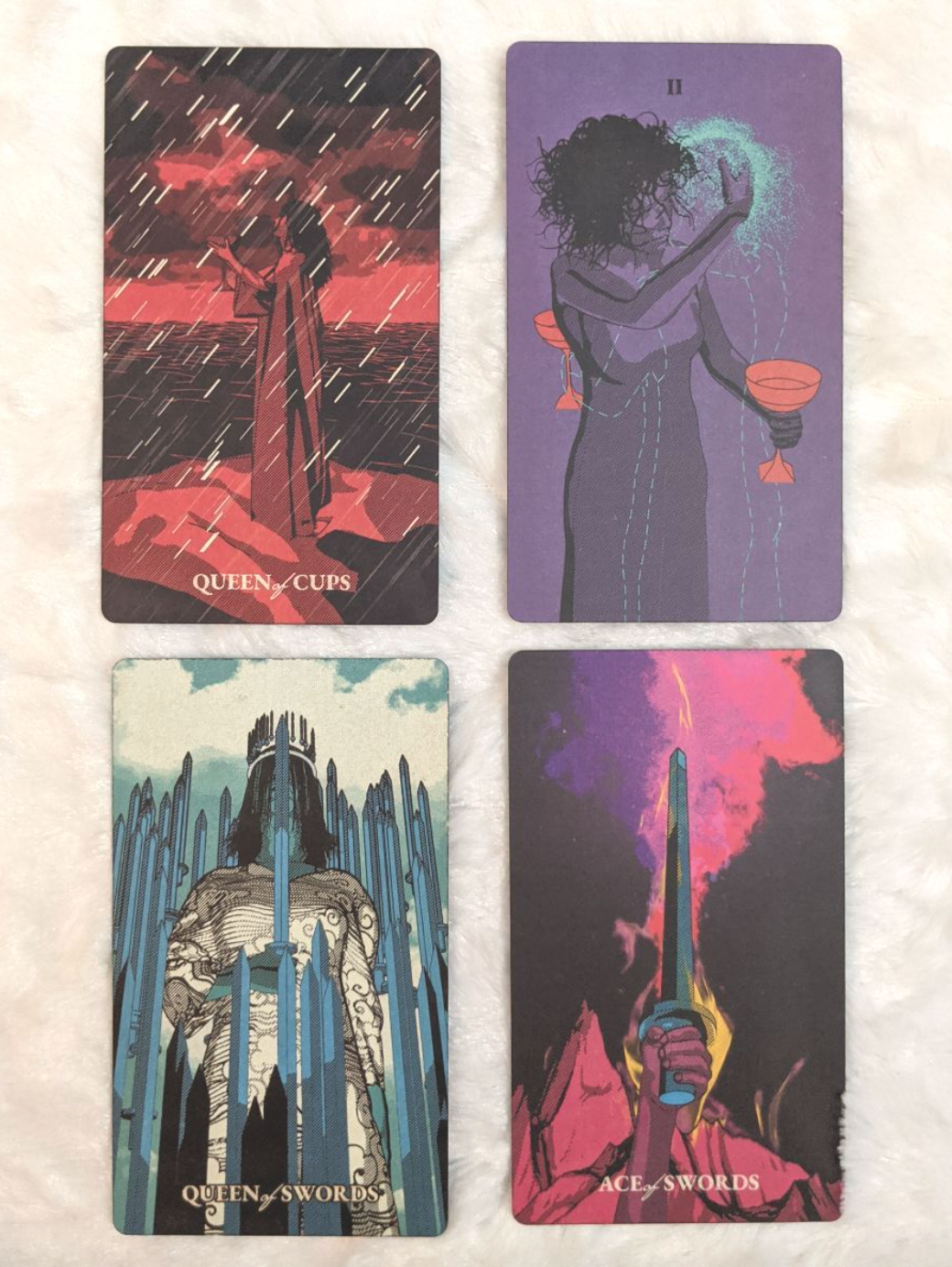 A few favorites from the minor arcana. The card stock is a beautiful matte (already covered in my fingerprints, but beautiful nonetheless) with a black core that lets the colors really pop. In choosing favorites, I definitely gravitate towards those that most deviate from the RWS tradition.
Out of my own collection, this deck reminds me most of my beloved Hayworth Tarot. They both have a surreal style that I really love. I talk about this in the video too: they're two of the only decks with humans I've been able to connect with lately. Apparently I connect best with human figures if they are somewhat abstract.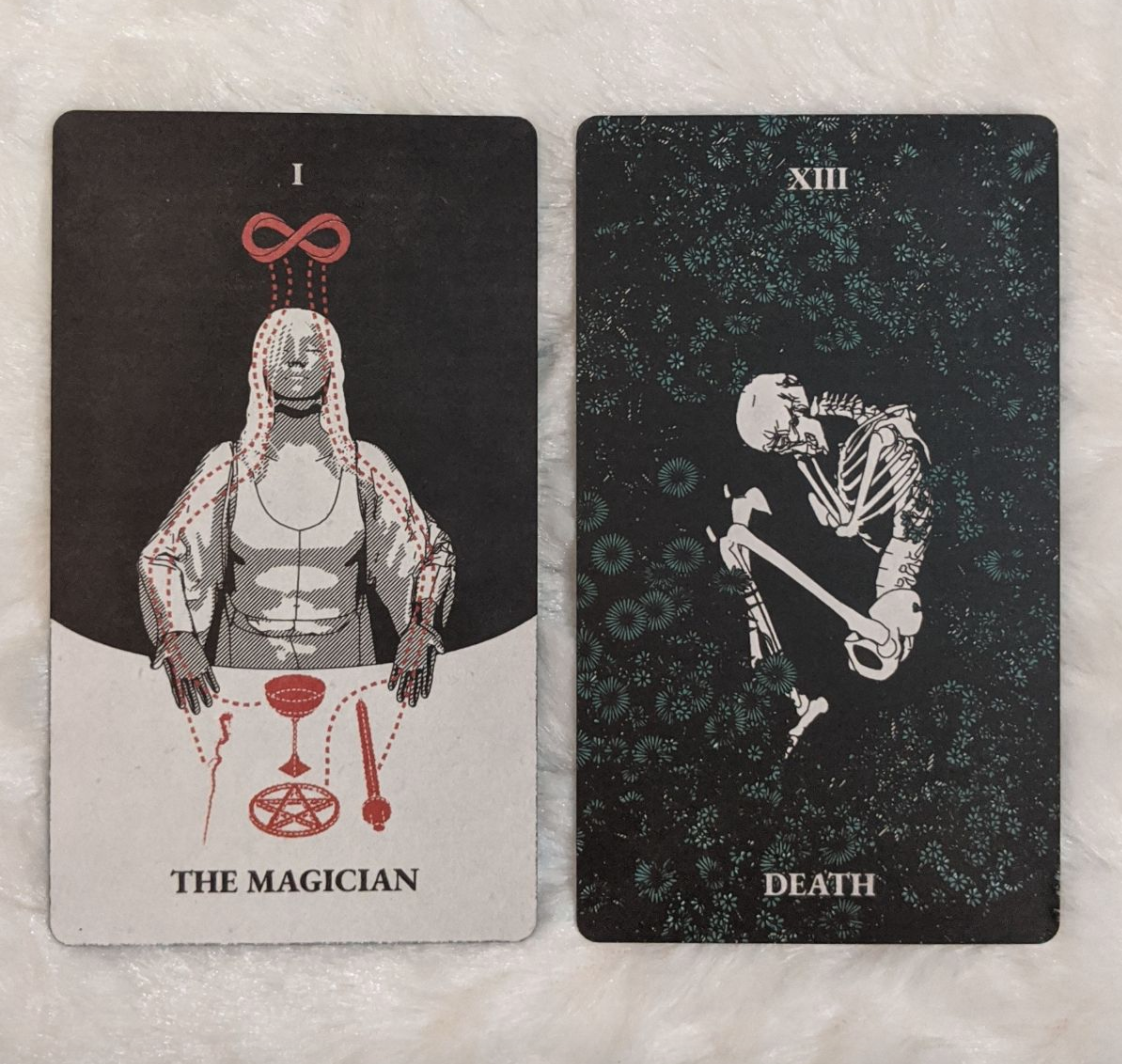 And a couple more majors I love. The Magician has this energetic thread from the lemniscate (above) channeled through their body and hands and into the four tools (below). Red works well here, the color of primal power, reminiscent of the red roses and red robe in the RWS Magician.
I love this Death card, and that's saying something, because there's actually not many Death cards I really love! We have the skeleton, obviously, but what I really like is how it is curled up in the fetal position. And the plant life around it almost looks like a sort of womb. A connection to the fact that Death and rebirth and intricately linked.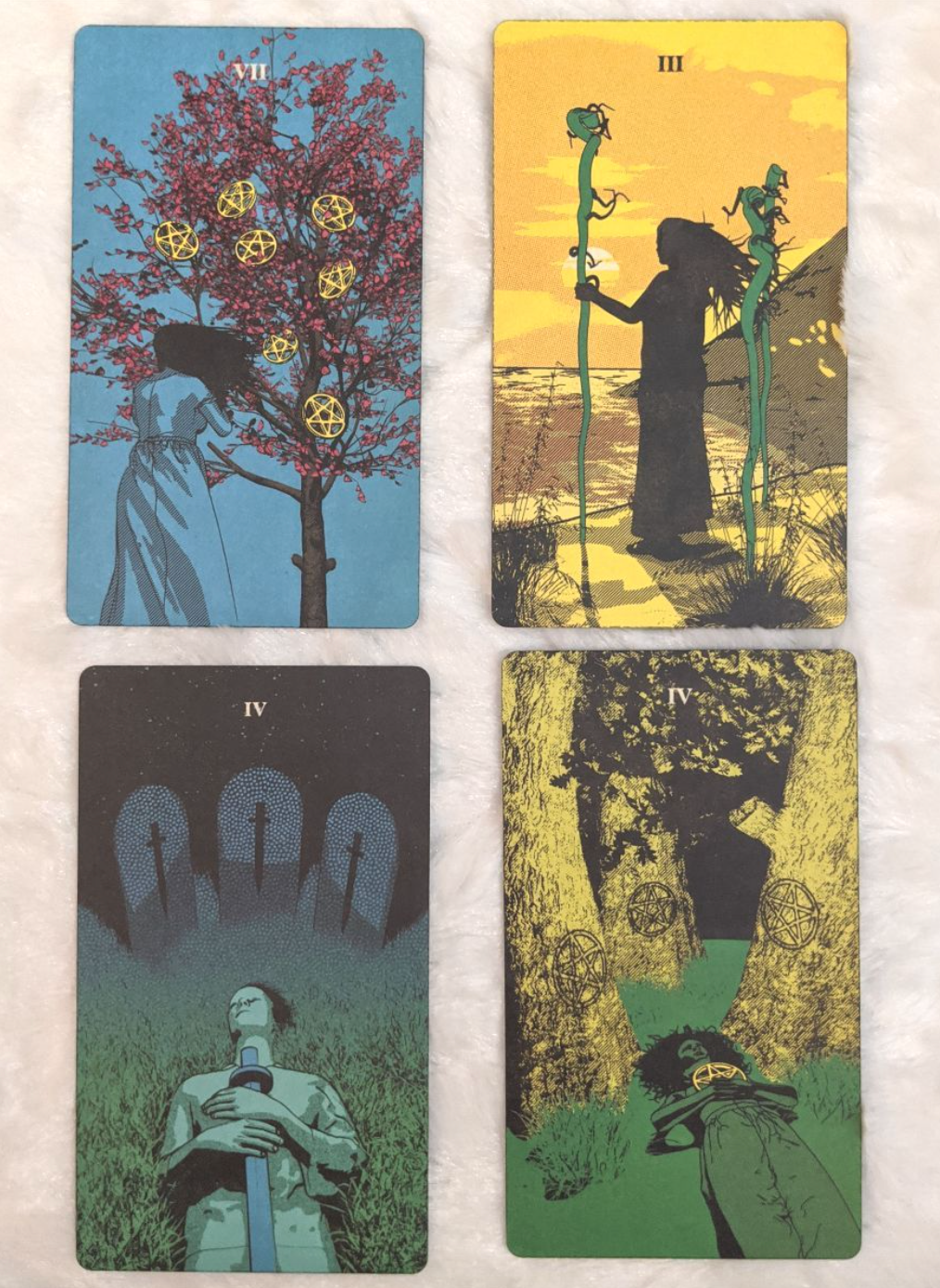 The colors on the Seven of Pentacles are just *heart eye emoji*, and it reads perfectly. The Three of Wands is a good example of one of the many cards that draw upon RWS imagery but still have a distinct personality. The Four of Swords has a sort of creepy vibe with those headstones, but I love it – it's one of the ones that reminds me the most of the vibe of the Hayworth deck. There's an echo on the imagery of the Four of Pentacles – not quite sure what to make of that but I do like them both.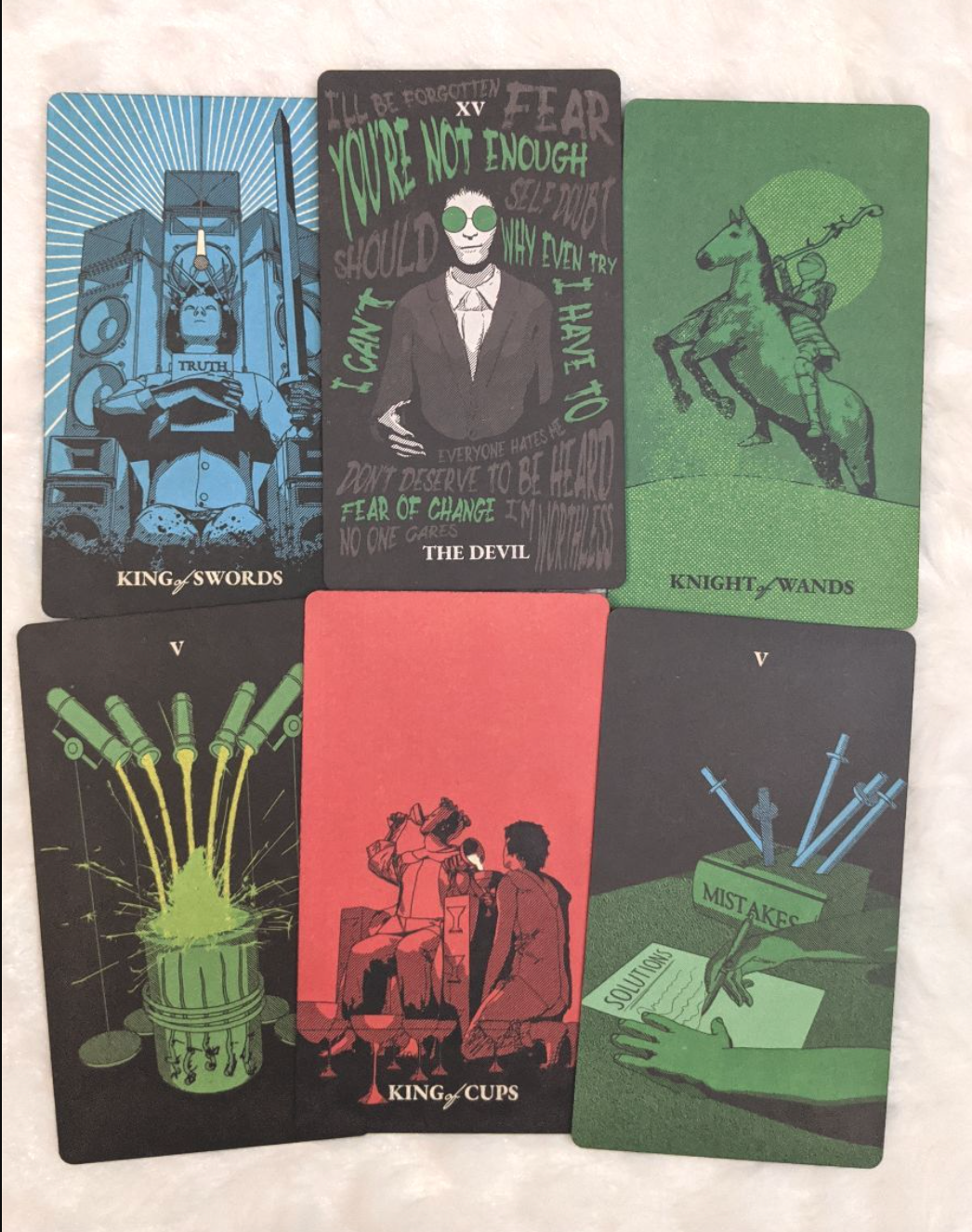 Although I obviously love the deck overall, there's a handful of cards I don't feel quite the immediate connection to – some of them are pictured above. There's a number of court cards I'm not as fond of, though to be honest, I'm not as fond of the court cards in MOST of my decks. Then there's a couple like the Devil and the Five of Swords that point me to a really specific interpretation of the card so I need to think about how I can expand my views of them. And then there's a few like the Five of Wands that I'm just not quite sure what I'm even looking at.
I'm sure I'll get to the point where I can work with ALL the cards. Some will just take a little more exploration and curiosity.
So there you have it! Some initial reflections on a deck I'm sure I'll be turning to a lot in the future, Tarot of the Holy Spectrum. You can purchase the deck here and watch my full walkthrough video here.
Sign up for email updates and get
Foundational Tarot, a free video course!