Whenever I talk about anything astrology related, I feel compelled to start with a disclaimer: I'm not an astrologer. Just a tarot reader who enjoys occasionally dips her toes into this complimentary field! That said, man oh man has there been some interesting astro stuff happening lately.
Mercury retrograde.
A solar eclipse in Cancer.
And now, a lunar eclipse in Capricorn.
I think I've been feeling this all times ten because of The Spacious Tarot. Creating a tarot deck has been a pivotal event in my life, and it's coincided interestingly with all the macro level happenings. I've definitely been going through looooots of micro level shifts and really feeling this weird but wonderful cosmic energy lately!
On that note – we only have FOUR DAYS LEFT of our Kickstarter campaign for the deck! A lot of people have been asking if we'll be selling The Spacious Tarot after the Kickstarter campaign ends – the answer is yes, but likely not until 2020. Figuring out the logistics is a big endeavor, so right now our priority will be Kickstarter orders. What I'm saying is, if you know you want a copy of the deck and haven't yet backed it on Kickstarter, that's the best way to go.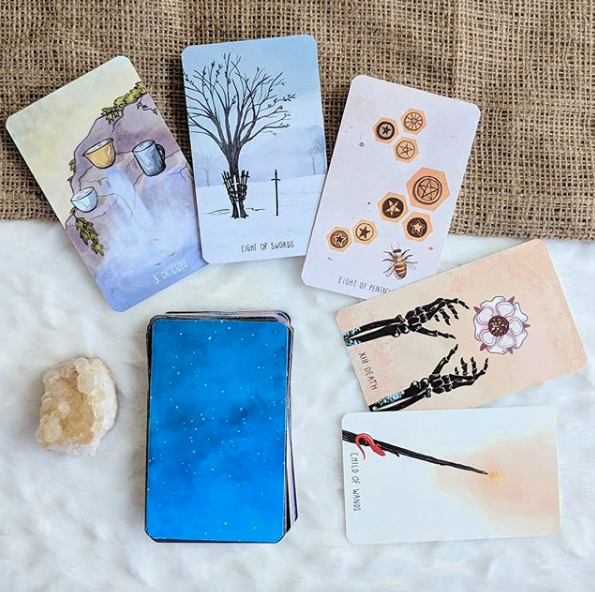 Here's the tie in: one of the big themes that has come up over and over in the deck creation process is taking responsibility. Some time ago Annie and I got stuck in the project, and so I pulled a few cards for us to reflect on. The central card was the Emperor. This was an indicator that we each needed to have clearly defined roles, and we each needed to take greater ownership collaboratively and individually for this project. That reading definitely felt like it shifted the energy and allowed us to move forward productively.
This morning I spent some time sitting on my porch, drinking a nettle infusion and reading insights about this lunar eclipse in capricorn from some of my favorite astrologers. Here are some of the key themes they brought up about this eclipse:
–@tara.nikita says we are dealing with collective themes of power, responsibility, and "spiritual adulthood."
–@mysticmamma says we are stepping out of old constructs and being guided back to our own seat of power. This can be a vulnerable process.
–@chaninicholas says this is a time of release. It is important to stay close to what keeps us centered and protected.
Drawing upon these themes, I've created a LUNAR ECLIPSE IN CAPRICORN tarot spread for you to try. Although I did create this with the eclipse in mind, I think it would be a good spread to use any time themes of maturity and responsibility are prominent for you. Here's the spread: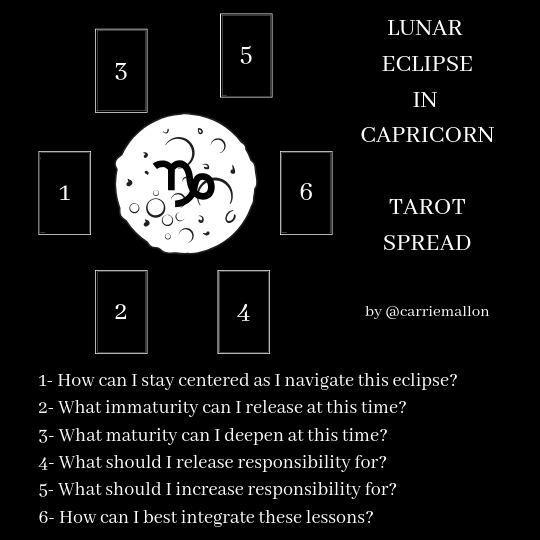 You are welcome to share this graphic on Instagram or any social media. If you share your spread and want to tag me, I'm
@carriemallon
on Instagram.
Whatever this eclipse is bringing up for you, I hope you can find some meaning and magic in the moment. Remember that our individual experiences are important, but we really are all connected. The whole universe is going through this thing with you, let's support ourselves and each other on this wild ride.

Book a private reading with me here.
Sign up for weekly updates. You'll also receive my free ebook, The Tarot Reader's Daily Companion.