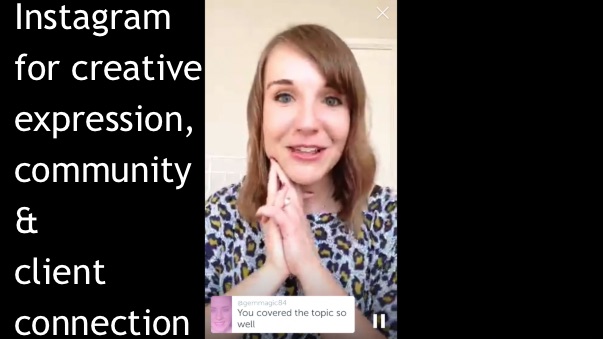 Pondering Pentacles is a series where I talk all about feeling good through your work. I'm here to talk about cultivating a business that feels like an authentic expression of yourself. I hope you'll find something thought-provoking and useful here!
One of the things that has made me feel the most magical, creative, inspired and connected in my business is…
Yep – Instagram!
For a business owner, this platform can be fulfilling on multiple levels. It allows you to express yourself in multiple ways (visually in the images you share, and verbally in your captions). Instagram is also a place where communities thrive – commenting, liking and using specialized hashtags are all great ways to connect with the people who resonate with your business. And, of course, Instagram allows you to build meaningful relationships and reach new clients.
What I'm sayin' is Instagram is a pretty special place.
The video I'm sharing here is brimming with in-depth, valuable tips on using Instagram for your business. I don't want to toot my own horn, but what I talk about here is stuff many people would charge for. It's really good information, delivered from my personal experience and soul-centered perspective. I originally shared this live on Periscope, I saved the video because I think it's THAT GOOD.
You'll learn:
How to create intriguing images (even if you're not a photographer)
Why your caption is as vital as your photo
The difference between Suavely Polished and Grandma's Attic accounts
How to use calls to action in a balanced way
Why a boutique-sized following can be incredibly valuable
And heaps of other juicy stuff!
Watch the 32 minute video below, and make sure you're following @carriemallon on Instagram:
After you've watched, leave a comment and let me know: what was your key takeaway from this training? Do you have other questions about using Instagram for your business?
If you want personalized guidance and nurturing for your business path, consider working with me for a six week customized mentorship.

Book a private reading with me here.
Subscribe to receive email updates and the FREE eBook, The Tarot Reader's Daily Companion.