You know what I love about tarot? It relates to ALL aspects of the human experience. Of course, tarot speaks to sweeping spiritual themes, but it also illuminates our mundane daily routines. In this series, I'll talk about various ways tarot ties into the human experience. I hope this will help you deepen your relationship to the cards – and to yourself!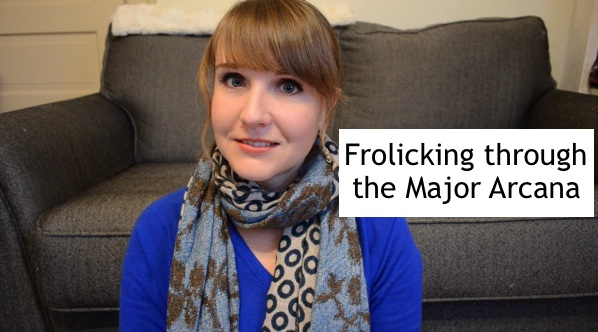 There are many (endless, actually!) ways to look at the Major Arcana as a whole. Today, we are going to create a Major Arcana map of sorts. This will give us a bird's eye view of the process of human growth and development as reflected in the cards. You can watch the video, or read the text version that follows.
To create our map, we will lay the cards out in three rows of seven, with the Fool in his own separate row. Each row shows a different level or dimension of the human experience. This concept has been laid out by several different tarot authors (Rachel Pollack, Sally Nichols and Corrine Kenner to name a few), but they all vary slightly in how they explain the details. I've taken some of their ideas and put them through the Carrie-filter to show you how I understand this map!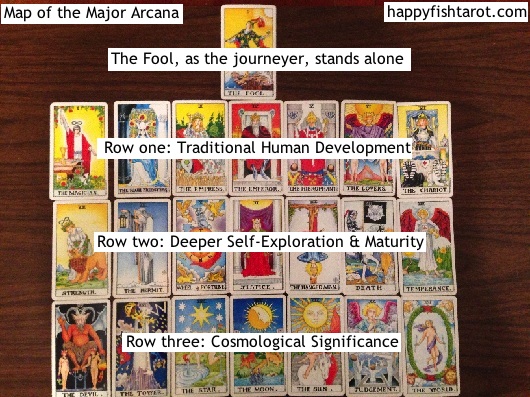 Let's catch our bearings and take a quick overview of our map before we jump into the details.
The Fool stands alone (like the cheese). The Fool is a special and unique snowflake who can manifest in any of the cards – he is nowhere and everywhere. We've all heard by now that the Fool represents us. The Fool is the journeyer who will traverse the rest of the map. Arthur Edward Waite said that the Fool is a soul in search of experience – and the Fool finds that experience in the rest of the cards.
Row One consists of the Magician through the Chariot. I call this the Traditional Human Development row. Here we find the classic themes associated with our journey from infancy to adulthood. With the Chariot, we see the image of self-possessed "maturity." I think of the Chariot as the "societal success" card. In her book 78 Degrees of Wisdom, Rachel Pollack points out that not everyone journeys past the point of the Chariot. The next two rows show more complex levels of experience and reflection.
I refer to row two as Deeper Self-Exploration and Maturity. This consists of Strength through Temperance. We've established a sense of identity and are now pulled to seek a deeper sense of values and meaning. While the first row dealt more with our outer world, this row sees us doing more exploration of our inner world.
I call row three, the Devil through the World, the Cosmological Significance row. We're now encountering sweeping universal themes. We're exploring our place in the cosmos and a greater sense of purpose. We're doing some psyche exploration. We're pondering mythical, spiritual themes and trying to define meaning.
Whew! Now that we've scouted the terrain, let's explore each of these rows in detail.
Traditional Human Development :: Magician through Chariot
The Magician shows us discovering our influence on the outside world even as infants. We develop our motor skills and learn that we can make things happen through our actions. The High Priestess teaches us about our inner world, our emotions, and the things about us that other people can't see right away. The Empress represents the Mother archetype. We learn about nature, nurturing, and manners. The Emperor introduces us to the Father archetype and we learn about discipline, protection, structure and rules. With the Hierophant we begin to branch into outside society. We form a group identity through nations, communities, churches and schools. The Lovers correlates with reaching adolescence. We begin to establish our own identity separate from what we were born into. We begin to define our own relationships with friends and lovers. The Chariot shows the picture of young adulthood. We now have a somewhat set sense of self-identity.
Deeper Self-Exploration & Maturity :: Strength through Temperance
With Strength we learn to face adversity with courage. We're beginning to confront our wilder nature. The Hermit calls us to turn away from the outer world and begin to look within. We're re-evaluating the kind of life we really want to live. The Wheel of Fortune teaches us through experience that not everything is in our control. We must learn to change what we can and accept that some things are overseen by an external force. Justice teaches us about integrity and freedom. We begin to acknowledge that we must actually live in line with our proclaimed values. The Hanged Man helps us realize that our belief system is not the only valid belief system. We begin to experience life from alternate perspectives. Death teaches us about physical death, but also about transformation and endings. Our values, priorities, identity can be transformed time and time again. We also learn about ego death – we realize there is more to our identity than 'I.' Temperance shows us appreciating both our inner and outer worlds. We're finding a balanced approach to living that works for us – taking the ideals of society that work for us and adapting our own ideals as well. We're finding our own unique mix.
Cosmological Significance :: Devil through World
With the Devil, we begin to acknowledge our shadows. We realize we must face our addictions and confront the darkness within us, as well as the darkness in the world. The Tower gives us flashes of truth in the dark of the night. We realize that things which feel chaotic at the time are often exactly what we needed in hindsight. The Star gives us a renewed sense of peace and hope in spite of struggles. We realize that hope is ALWAYS present even in the darkest hours. We experience the importance of vulnerability, of showing our true selves. With the Moon, we explore our vast psychic landscape. Sometimes this is scary – the dark side of our imagination can induce panic and illusions. We reach a higher experience of shining vitality with the Sun. We learn to find clarity and joy without ignoring the hard parts of life. We reach a new invigoration and begin to embrace our true nature. We're having epiphanies and aha-moments! Judgement calls us to a cosmic purpose. We reach a deep understanding that our lives have meaning, that we can be heroes. We experience a boost from spirit/God/the Universe/our higher power… a force that goes by many names. With the World, we experience integration. Ego and Soul, Mind and Body, Science and Myth all dance together. We experience the place where all of our contradictions meet and form a perfectly imperfect whole.
What a trip, eh?
A while back I talked about growth being a spiral process, not a straight line. That seems apt to bring up here again. The map we just ran through is not one-size-fits-all. We go through our experiences in our own unique way and our own unique order. Even so, I find this map of three rows very useful. It's an effective way to get a general feel for how these cards chart our journeys and highlight our experiences.
As always, if you have comments or different perspectives, I LOVE to hear them.
Cheers to the journey,
Like what you see here? Subscribe to receive my monthly newsletter & four free guided meditations.