I've written interpretations for every card in the Wild Unknown Tarot. As the box of the deck states, there are no rights or wrongs. These are simply my perspectives on the tarot card meanings. I hope you find them useful!
Click here for a directory of all posts in my Wild Unknown series.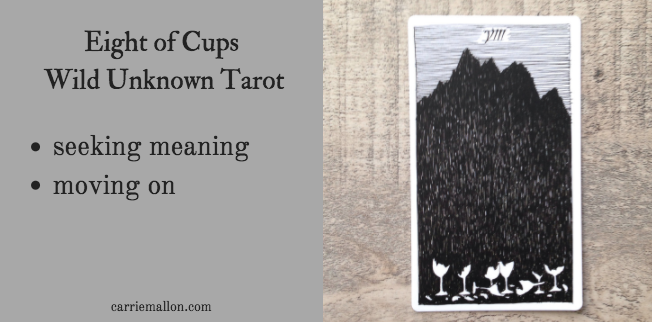 Eight of Cups :: Wild Unknown Tarot
Creator's Keywords: moving on
Carrie's keywords: seeking meaning, moving on
Begin or deepen your tarot studies with
Foundational Tarot, my free video course!
Join the email list for instant access.
Eight of Cups Tarot Card Meanings in the Wild Unknown
This majority of this card is filled by a dark, tall, towering mountain. The craggy peaks seem ominous at first glance, but in the dark, we can't really tell what these peaks might hold. At the base of the mountain are eight cups in varying states of shatter and disarray.
There's a forlorn feeling to this card. The goblets seem to have been left out in the rain. They still retain some of the elegant beauty they once held, but the beauty is now giving way to damage. I can imagine that these goblets were once respected and cherished. They served a purpose and had meaning.
The Wild Unknown gives a simple phrase for this card: moving on. Occasionally, moving on is an easy process. Situations come to an end, we have proper closure, and everything feels okay. But more often than not, moving on can feel heavy, sorrowful and difficult.
In this imagery, the broken cups can no longer serve us in the way they once did. Even so, we might wonder if they are REALLY beyond repair. Moving on is the most difficult when the situation is not entirely bad. We might wonder if a situation is salvageable even when we know in our hearts it is time to seek deeper meaning.
Eight of Cups Tarot Card Meanings in General
A notable difference in the Waite-Smith tarot depiction is that the cups are not broken as they are in the Wild Unknown version. Sometimes your heart knows you need to move on even if there are still SOME good elements of your situation. It is one thing to move on when you know things are shattered, but it is a much more nuanced process to move on when the situation isn't so cut and dry.
To me, the Eight of Cups is closely linked with the never-ending journey of the soul seeker. You may sense in your heart that you are here for a purpose, and you may feel a yearning in your heart to find meaning in your experiences and in the universe. The Eight of Cups shows the poignancy of this energy.
In a reading
This card might suggest that you consider where you find meaning in your life. Have you remained in situations that are no longer as fulfilling as they used to be? Is your emotional energy being drained? It may be time to assess what you need to leave behind in order to rise towards your next vista of fulfillment.