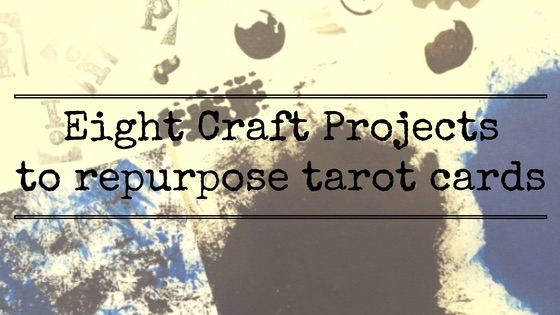 Every now and then you end up with a tarot deck that you just don't vibe with. Maybe the imagery was super gorgeous when you saw it online, but once you had it in your hands…it just wasn't the deck for you. This happens to the best of us! You find yourself with a few options: leave the deck on a shelf to collect dust, sell or give it away, or…get crafty and repurpose the cards! There are so many interesting projects you can do with a deck of cards! Here are eight things you might consider doing with a deck of tarot cards you don't care to read with.
1. Make bookmarks
I have a knack for constantly misplacing bookmarks. Luckily for me, I always have a few stray tarot cards on hand to place in my books. You can do what I do and just use the cards as is, or you could get a little craftier: trim the card borders with scissors, then use an edge rounder. Punch a hole in the top of the card and pull a ribbon through and you've got yourself a pretty damn adorable tarot bookmark.
2. Wall art
This is a good option if you find yourself with a tarot deck that is gorgeous to look at, but not so great for reading. Why not put the cards in a nice frame and hang them as wall art? I'm planning to do this with the major arcana of one of my decks.
3. Make a mini notebook
Okay, are you feeling really adventurous? I found this tutorial to make miniature notebooks and it looks super cool. I haven't tried this one myself, but how sweet does that look? Making some little tarot notebooks would be incredibly awesome. If you are more ambitious than me and try this, send me one! Jk sort of but really, send me one. 😉
4. Add in your own art
Here in Salt Lake City, there's an artist who gathers painted landscapes from thrift stores and adds in her own elements. If you have a deck with more minimal imagery, grab a pen and add in some artistic flair of your own just for funsies.
5. Use in an art journal
If you already keep an art journal, you could incorporate your stray tarot cards. It would be particularly fun to cut them up and piecemeal them together collage-style.
6. Make a garland
Try making a card garland! I haven't done this and probably won't due to laziness, but it creates a nice effect. String the garland across your desk or doorway or bookshelf or…anything, really. Tutorial here.
7. Make a business card holder
If you're up to another more challenging project, how about making a mini-wallet/business card holder? There's a tutorial here, and the creator had good results using tarot cards.
8. Make a tote bag
This is the next one I'm going to try! Teenage Carrie would have loved this one. I have fond memories of making myself a tote bag out of duct-tape and feeling like a DIY goddess when I was 15 or so. Plain duct tape was cool enough, but imagine making a tote bag out of tarot cards?! Yes, you can do that. Tutorial here, and it's pretty easy.
There you have it: eight crafts to repurpose your tarot cards! If you try any of these ideas, definitely leave a comment and tell me how it goes.
Happy crafting,

Book a private reading with me here.
Sign up for fresh blog posts weekly + my free ebook 'The Tarot Reader's Daily Companion'.