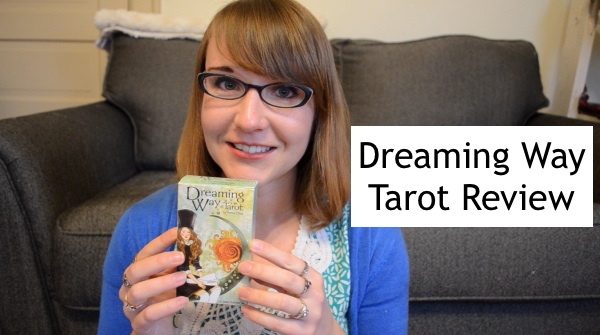 "OMG, what deck is that?" "It's beautiful!" These are the kinds of comments I get EVERY time I post pictures of the Dreaming Way tarot on my Instagram or Facebook accounts. And I can see why – it is a unique and pretty deck! In this review, I'll walk you through what I like (and what I don't like!) about the Dreaming Way tarot.
This deck was published by US Games Systems in 2012. The deck creator, Rome Choi, says the images on the cards came to him in dreams, hence the name 'Dreaming Way.' The ethereal illustrations are by Kwon Shina. Check out my video review, or the written version below.
Full disclosure: I have trimmed the white borders from my copy! I'd seen pictures online of the trimmed version before I purchased the deck, and I was smitten. Trimming the borders was my first order of business once this baby landed in my hands. This is the only deck I've trimmed so far, and I adore the way it turned out! I can't recall who, but someone else online said that as they trimmed, they felt as though they were letting the images out of jail. I have the same sentiment.
This is definitely a Rider-Waite based deck. Many of the images are virtually identical to the RWS cards (see the video version of this review for more pictures). However, there are a few cards which are entirely different. The World is my personal befuddlement card in the Dreaming Way tarot. It shows an older gentlemen reclining in a chair with a pipe, a book in his lap. He bears a striking resemblance to JRR Tolkien!
I would describe the deck's art style as "steam-punk meets hipster." The High Priestess is a prime example. She wears knee socks and a top hat. She sits perched upon a green crescent moon, a funky green pattern behind her. It's not everyone's cup of tea, but I can get down with it.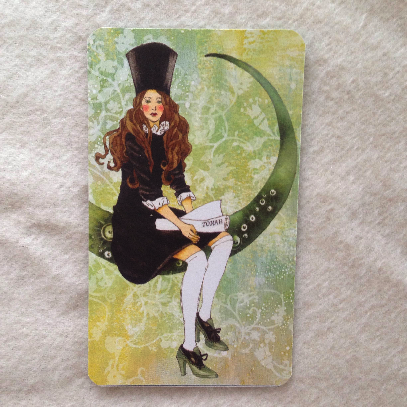 Nearly every character in the Dreaming Way tarot has rosy cheeks. However, a few characters have notably green hues instead of pink. For example, the figures in the Hanged Man and the Ten of Swords have greenish colored cheeks. This seems to be a way to distinguish cards with 'heavier' energy.
The box states that this deck explores elemental influences of the cards. I've noticed that artistically, the four suits coordinate nicely with the four seasons. In the suit of Wands we see the beach and the ocean several times, giving it a summery feel. Cups show many blossoms and flowers, tying this suit to spring. In the suit of pentacles we see some grapes and harvest themes, linking to autumn. And in the swords cards we see some actual snow covered grounds, giving this suit a winter theme.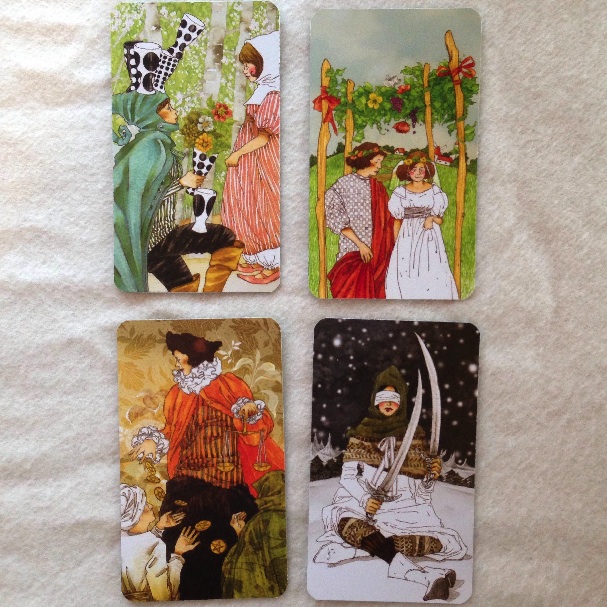 The Pages are depicted as young females, giving the court cards a more even gender distribution than the Rider Waite pack. However, this deck is still lacking when it comes to diversity of age, weight, race, etc – though the same could be said of the RWS deck. My favorite card in the Dreaming Way tarot has to be the Page of Cups. I mean, she has a tea kettle on her head – what's not to love about that?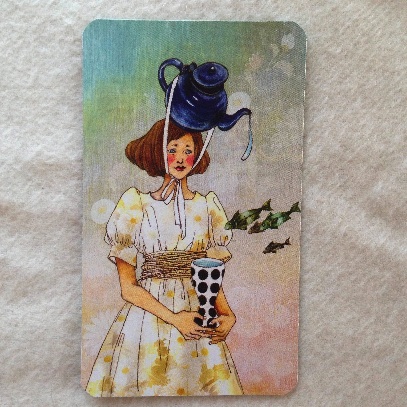 In all, this is a fun, whimsical, enchanting deck. A few cards miss the mark for me, and it's not a 'perfect' deck. But the charm of the Dreaming Way tarot keeps it in my constant rotation. I find this deck lends itself well to uplifting, encouraging readings. It's not a deck I often use for heavier readings with a lot of psychological/spiritual depth. I have used it for deeper readings with good results, but I find that the imagery is more suitable for purely positive messages.
The Dreaming Way tarot has a special place in my heart, and I hope this review has helped you if you are considering purchasing yourself a copy. If you have any questions, do feel free to let me know!
Like what you see here? Subscribe to receive my monthly newsletter & four free guided meditations.