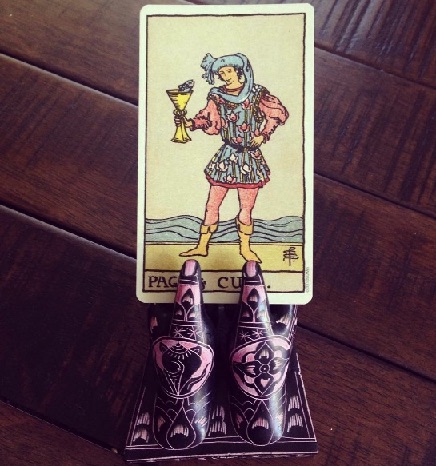 I read my own cards all the time. Pretty much every day, as a matter of fact! But sometimes I'm way too emotionally entrenched in a situation to read for myself. In those times, I turn to the talented population of our tarot community. There are SO MANY amazing tarot readers out there and it makes my heart happy. I've worked with a few amazing readers lately, and I want to tell you a little about them today.
Vickie Wilson
A few months ago, I found myself constantly dreaming about an old friend. It felt cosmically significant, but I couldn't see for myself why that was. And so I turned to Vickie, and received an in-depth, articulate, and to the point reading.
Vickie incorporated astrology and tarot, with astonishing results. My mouth was literally hanging open as I read certain parts – she described my friendship with this person SO accurately, it was like she knew us!
It was also really useful for me to get a reading from Vickie because her style was direct – no fluff, no fancy frills – just straight up wisdom. She's wonderful at giving tough love! There were a few things in the reading that I know I NEEDED to hear, but I didn't necessarily WANT to hear them at the time, haha! Vickie was always kind and empathetic, but still told it like it was. I really admire that approach.
You can book a reading with Vickie here.
Kelly-Ann Maddox
If you follow my blog or Instagram regularly, you might remember that I went through some pretty intense inner turmoil last month. I could sense I needed guidance, and so I turned to Kelly-Ann for a reading to help me work with that Tower energy.
I received a video reading, and it was truly a treat. If you've seen her YouTube videos, you know the magic Kelly-Ann weaves with cards and words. I was enchanted throughout the entire video, and you bet your bum I took a lot of notes!
The most poignant thing about the reading was the way Kelly-Ann tapped into so many nuances of my situation. She helped turn my attention to aspects of my life that I wasn't consciously aware I needed to look at. The reading helped me flip some mental switches and gave me lots of tangible advice to work with.
You can book a reading with Kelly-Ann here.
Dana Machacek
This reading came along due completely to the powers of synchronicity and the delightful workings of the universe – and I'm sure glad it did. I've been following Dana for a while on Instagram, and she sure is a beam of light. She's very positive (high vibe as the cool kids say) but still thoughtful and real.
This was a unique reading in that Dana did not use cards. Instead, she intuitively tuned into my energy. It was a new experience for me – I'd never had a reading that was so utterly intuitive. I went into it with an open mind, and I was quite pleased with what I received.
The most powerful thing about my reading with Dana is that she tapped in to many issues that had been lingering in my unconscious mind for some time, but I hadn't been ready to address them. Dana firmly but gently brought those energies to the surface, putting words to what had been stewing within me. It felt like a sigh of relief hearing someone else describe my thoughts and feelings – it gave my experiences validation, and I didn't know how much I needed that until I had it.
You can book a reading with Dana here.
Honorable mention: Jessi Huntenburg
If you aren't familiar with Siobhan's monthly tarotscopes, you should absolutely check them out. Each month on her site, Siobhan brings together twelve tarot readers to contribute a tarotscope for each of the zodiac signs. I always enjoy reading them – Siobhan certainly has a knack for bringing talented people together.
I'm a Cancer, and when I clicked over to read my 'scope for Leo season I had to do a double take. The reading, contributed by Jessi Huntenburg, was soooo applicable to me that I think my exact words were "holy fucking shit." Seriously, I can't even describe the levels of meaning I derived from this short but potent AF message Jessi delivered. That's why I've listed her as an honorable mention – technically I didn't get a "personal" reading from her, but I sure as hell feel like I did!
You can book a reading with Jessi here.
Have you had a reading from anyone particularly incredible lately? If so, leave me a comment and tell me about it. I'm always happy to find amazing tarot people.

Book a private reading with me here.
Sign up for fresh blog posts weekly + my free ebook 'The Tarot Reader's Daily Companion'.