One of the most common bits of advice given to tarot beginners is to engage in a daily draw practice. It's tried and true advice, to be sure. I've had a fairly consistent daily draw practice for many years and it's proven invaluable. At some point, I should probably write an entire post about daily draw practices, but that's a funny thing to say because it's the opposite of what I want to talk about today. Because today, we're talking about some things to try when you get bored of doing daily draws.
There are individual variations on the daily draw practice, but generally it looks like shuffling, drawing a card at random, and reflecting upon that card. Useful as the daily draw practice can be, sometimes you just want to switch it up. Any time what you're doing with your cards starts to feel stale or uninspiring, give yourself permission to dip into something different.
There are infinite ways to use tarot. I could write a whole book about things to try when you're bored of daily draws (publishers HMU). But today, I'll just give three suggestions to get you started.
1. Pull a card face up.
I find this is a nice change especially when you are feeling tender. We've all had those moments when we're feeling blah and frazzled and then we randomly draw a card and it's the Tower and we're just like "gaaaah this is not what I wanted to see." Sure, sometimes you need to see things even if you don't want to see them. But sometimes you need to engage your free will and consciously choose which card you want to share space with today.
There are lots of different ways to structure a face up pull, but what I usually do is just ask my higher self: "what energy do I choose to invite into my life today?" Then look through and pick the card that most resonates. I also like to jot down a sentence or two about what card I picked and why. This is akin to setting an intention for your day. It feels empowering and can be a great way to reunite you with a sense of autonomy.
If the idea of face up tarot intrigues you, Siobhan of Radical Tarot had a whole series about Face Up Tarot on Little Red Tarot a few years ago, which can be found here.
2. Do a literal daily draw.
I recently went through the Spolia Tarot (one of my favorite decks, which is sadly about to go OOP) and sorted out the cards I find the most visually interesting. For a few days, my 'daily draw' practice was to do a little chicken scratch sketch of one of these cards. I really like doing this because tarot is, at its heart, a visual language. Sketching a card helps me move out of a place of grasping for meaning and trying to put something ineffable into words, and moves me into a direct experience of the card's energy.
As a bonus, sketching leads you to notice little details you may have overlooked otherwise, so it really enhances your relationship to your deck. I first heard the suggestion to sketch tarot cards from one of my favorite tarot books, '21 Ways to Read a Tarot Card' by Mary K Greer. Anything that's good enough for MKG is good enough for me.
Below, my sketch of the Spolia Tarot's creepy yet delightful Five of Pentacles.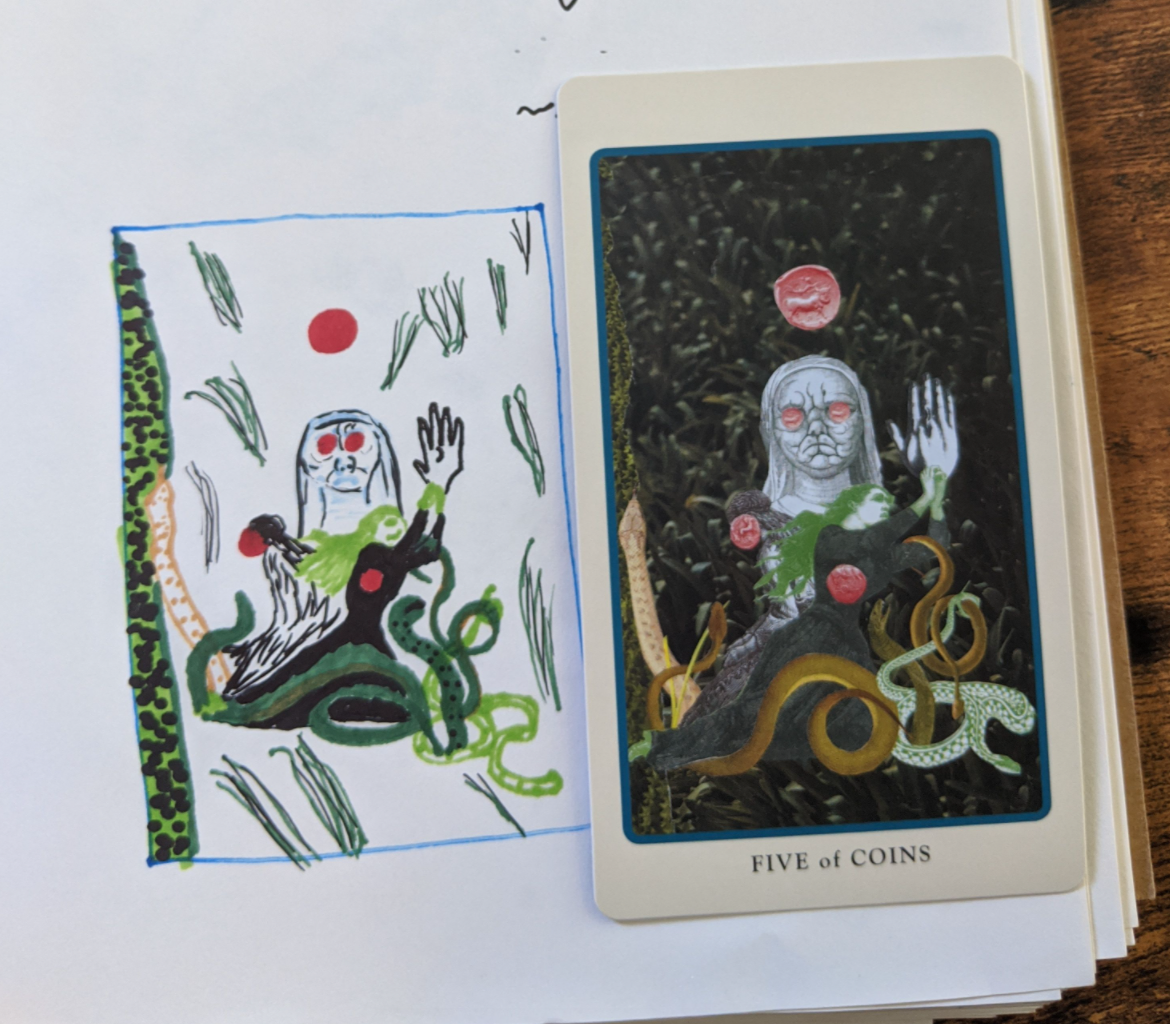 3. Visualize how YOU would depict a card.
Fair warning: if you start doing this, you may end up creating an entire deck. It happened to me, it could happen to you.
How I would suggest doing this: use an iconic deck like the Waite-Smith. Choose a card whose meaning you resonate with, but whose imagery you don't really connect with. Then, close your eyes and spend a few minutes feeling into what the energy of the card looks like to you. Free yourself from how the card is "usually" shown. This requires you to delve into the essence of an archetype and ask how that energy manifests for you on a personal level. Don't overthink it, trust what comes up.
Maybe do a sketch of what arises for you, or even just go online and collect images that resonate with your vision. This is an amazing way to foster a deeply personal understanding of a card.
Doing this process myself is why there are certain cards in the Spacious Tarot that are very different than the Waite-Smith depictions, even though I love the Waite-Smith and it's the deck I learned with. The Hanged One is an example. I have never really vibed with the idea of showing this with a literal hanged man. To me, that card alludes to dark nights of the soul, surrender, new perspectives, liminality. So I felt into a very different concept of what Hanged One energy looks like for me personally, and we ended up with this: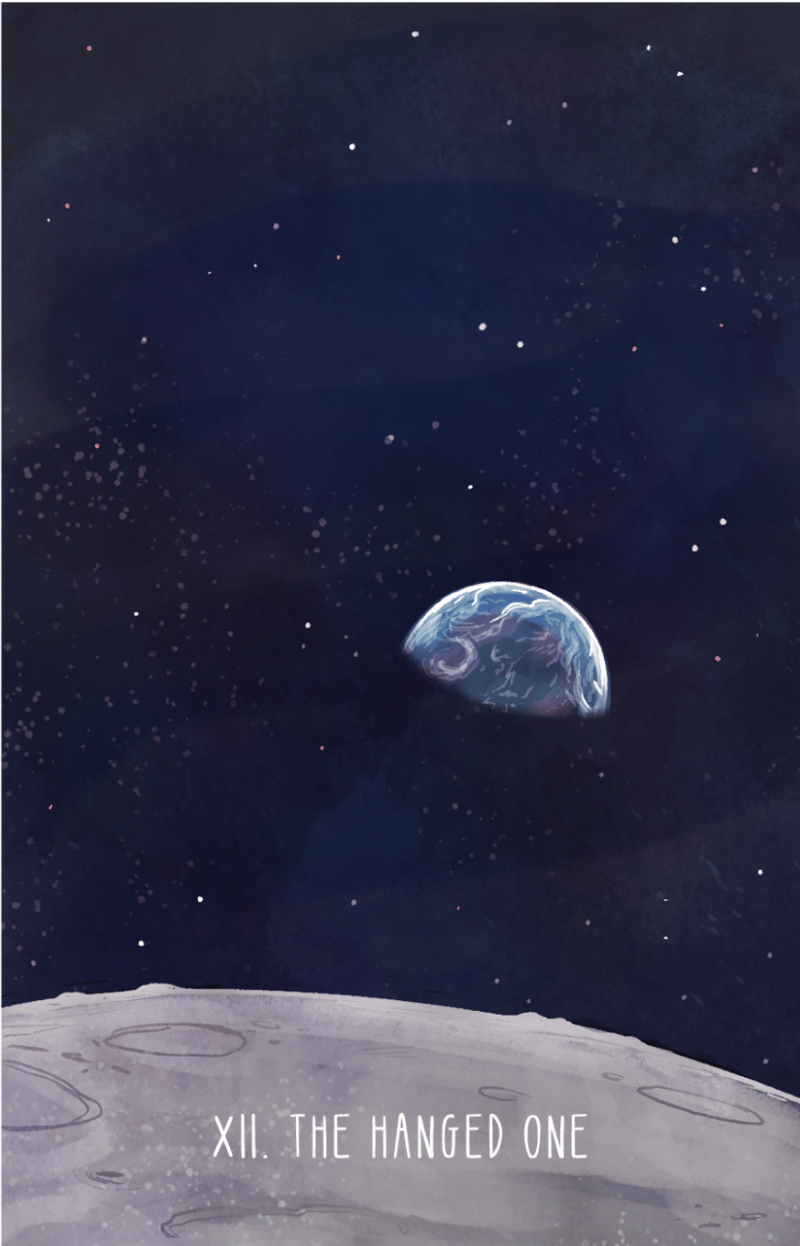 And there you have it! Three things you might try when you wanna spend a few minutes with your cards doing something a little different. I hope they might be useful and illuminating. If you try something out, you're welcome to let me know how it goes.
Sign up for email updates and get
Foundational Tarot, a free video course!