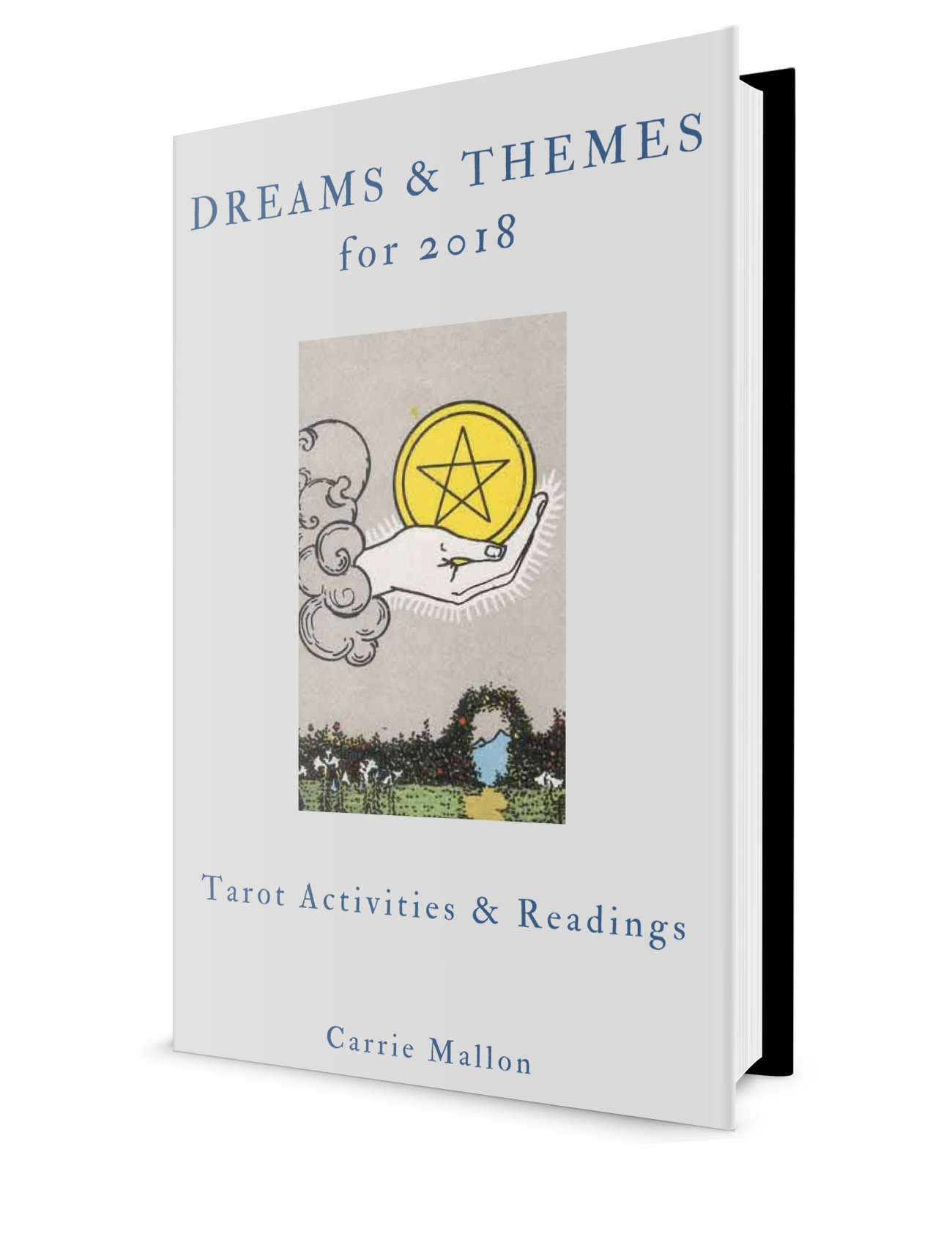 Use your tarot deck to work intentionally with the energies of 2018.
This ebook will show you how.
Get yours now for only $18.
Learn More
Thank you for your interest in working with me! At this time, all reading options are sold out. I will be available for readings again in mid January 2018.
In the mean time, my new ebook Dreams & Themes for 2018 is still available. Click here for all the details.
Meaningful messages delivered to your inbox.
Tarot taps into the magic of synchronicity (a term coined by Carl Jung to describe meaningful coincidences). When I read for you, I ask the Universe to guide us to the cards and messages that will be most useful for you right now.
My reading style is welcoming and open-hearted, focused on your self-discovery. When you receive a reading from me, you receive a detailed and personalized document giving you the right blend of practical and magical support.
If you already have a focus area in mind, a custom reading is just the ticket. I also offer original pre-designed spreads that tap into important themes like creative living and confidence. Whatever option you chose, it is my honor to interpret the universal energies and symbolism of the cards for you!
By purchasing a reading, you affirm that you've read and agree to my Ethics & Policies.
Purchasing Details
Readings are offered in your choice of written or audio format, delivered via email with a picture of your cards. Prices listed in USD. Once payment is received, I'll email the address linked to your PayPal account within 24 hours (leave a note upon purchase if a different email address is better!) to talk about moving forward. You'll then receive your reading within one week!
* SOLD OUT * Setting Your Theme For 2018 Reading
This unique reading starts by guiding you to reflect on 2017. Then the reading illuminates key energies to watch for in 2018. You'll get lots of valuable guidance on developing your strengths and navigating challenges throughout the year ahead. And of course, there's the hallmark facet of this reading: I draw three bonus cards, using each to intuitively suggest a theme word for you to work with in 2018. You then choose one (or more) of the suggested words to set the tone for your year.
I will only be booking a limited total of readings this year. This is to ensure I can give each reading the proper focus! Your reading will be delivered by December 30, 2017.
This reading uses 9 cards. Your choice of written format (around 1000 words)
or audio format (15-20 minutes).
SOLD OUT
Dreams & Themes for 2018 Ebook
Dreams and Themes for 2018 will get you geared up as you head into the uncharted wilderness of 2018!
The ebook is composed of two sections. The first section walks you through using your own tarot cards to reflect on 2017 as well as look forward to 2018. You'll be guided through potent tarot exercises designed to bring your personal dreams and energetic themes for the new year into the light.
The second section is a gathering of collective energy tarot readings for each month of 2018. These readings are written by me, with the intention of highlighting energetic themes that will be applicable to all of us in different ways. Think of this as a way to receive wisdom that is both deeply personal as well as universally relevant.
Dreams and Themes for 2018 is delivered as a PDF file via email. Available as a pre-order now, your ebook will be delivered Friday, December 15.
All site content © Carrie Mallon LLC 2017
Sign up for weekly updates