I've written interpretations for every card in the Wild Unknown Tarot. As the box of the deck states, there are no rights or wrongs. These are simply my perspectives on the tarot card meanings. I hope you find them useful!
Click here for a directory of all posts in my Wild Unknown series.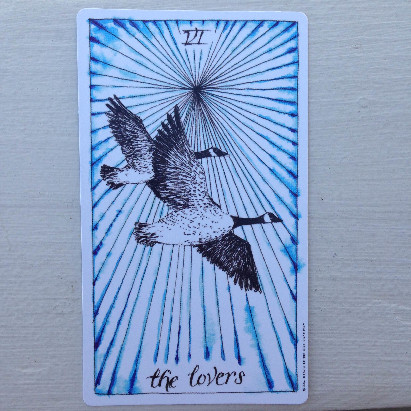 The Lovers :: Wild Unknown Tarot

Creator's Keywords: union, desire, values, joy
Get a deeper perspective on the unfolding of your life.
I offer private tarot readings and mentoring sessions. Let's work together! Explore options
In The Lovers card we're greeted by a pair of geese, flying in unison. There is harmony in their parallel wingspans, their parallel necks, and the parallel black and white of their markings. Everything is exactly how it should be.
The geese are effortless in their soaring – they aren't flapping their wings frantically, they're simply letting the wind carry them. This gives the card a sense of flow, ease, grace. The Lovers here trust that they naturally live in line with their values.
In many depictions of the Lovers, the two face each other. However, in the Wild Unknown, the geese both face forward. I love the symbolism here. They are on a journey together, no doubt. But at the same time, each also travels their individual path.
Again, I'm drawn to the use of lines in the Wild Unknown. In the previous card, we saw static vertical lines. In the Lovers, we have radiating lines, giving the card an expansive energy.
Behind the geese, rays of teal and dark blue emanate across the card, originating from a single point. This is reminiscent of the boldly colored rays we saw in the Magician, but the colors here are calm and peaceful. In the Magician card, the rays emanated from a point off center. In the Lovers, the point is directly above the geese and in the center of the card, showing equilibrium.
All of the design elements come together here to convey a message of harmony, ease and unity.
Sign up for weekly updates and get the free ebook,
The Tarot Reader's Daily Companion