I've written interpretations for every card in the Wild Unknown Tarot. As the box of the deck states, there are no rights or wrongs. These are simply my perspectives on the tarot card meanings. I hope you find them useful!
Click here for a directory of all posts in my Wild Unknown series.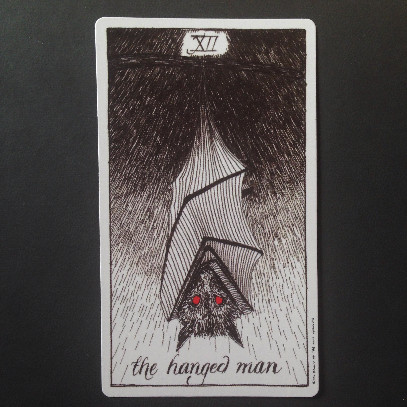 The Hanged Man :: Wild Unknown Tarot
Creator's Keywords: sacrifice, letting go, new perspectives
Get a deeper perspective on the unfolding of your life.
I offer private tarot readings and mentoring sessions. Let's work together! Explore options
What better creature than a bat to represent the Hanged Man? To us, he seems to be in suspension. He stows away in his topsy-turvy stance all day, and is active at night. Everything about the bat's lifestyle offers a new perspective.
The Hanged Man may seems to be upside down, but to him, being upside down IS right-side up. He is adept at seeing the world, and all of reality, from a different angle than what we would call normal. Normal is a relative term, the Hanged Man would tell us.
Bats hang this way because their wings are not strong enough to come into flight from the ground. Instead, they hang from their feet and can only break into flight when they let go and plummet through the air. This Hanged Man knows that now is not the time to fly – but when the time comes, he will be ready.
The Hanged Man seems to have a secret. The protective wrapping of wings and the red glow of his eyes give him the air of someone who knows something that we don't. He has learned how to let go of the normal filters of awareness and find comfort in discomfort.
Sign up for weekly updates and get the free ebook,
The Tarot Reader's Daily Companion