I've written interpretations for every card in the Wild Unknown Tarot. As the box of the deck states, there are no rights or wrongs. These are simply my perspectives on the tarot card meanings. I hope you find them useful!
Click here for a directory of all posts in my Wild Unknown series.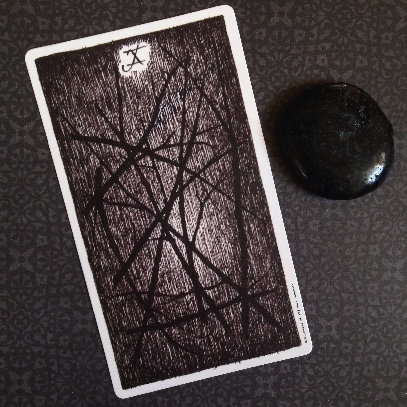 Ten of Wands :: Wild Unknown Tarot
Creator's Keywords: burden, the hard road
The Tip Jar
If you find value in my work, consider contributing to the tip jar. Your support helps me continue to provide free content, pay for web hosting, and indulge in the occasional cup of tea. Much gratitude!
Give any amount
The card is dominated by a black lined background which reminds me of heavy rain. The dreariness is so thick that we can hardly see the dark wands scattered about.
This card brings back to mind the cross-purposes we saw in the Five of Wands. But in the five, the wands still seemed to have a fighting spirit. In the ten, the wands look almost as though they have given up, they lay about in utter disarray. They've reached a dead end, they're overloaded.
The suit of wands is about enthusiasm, zest, personal energy and movement. Tens are about taking the suit to its logical conclusion. Thus in the Ten of Wands, we see a depiction of burn out. What was once excitement has become too much of a good thing. There is no focus, the excitement has essentially imploded upon itself.
This card reminds us that enthusiasm is not the only necessary ingredient! The fiery energy of wands can lead to taking on more projects, tasks, and plot lines than we can reasonably carry. When we reach this maximum capacity, everything becomes slowed and burdened. It is now necessary to prioritize and declutter so we can get on with all the good stuff!
Sign up for weekly updates and get the free ebook,
The Tarot Reader's Daily Companion