I've written interpretations for every card in the Wild Unknown Tarot. As the box of the deck states, there are no rights or wrongs. These are simply my perspectives on the tarot card meanings. I hope you find them useful!
Click here for a directory of all posts in my Wild Unknown series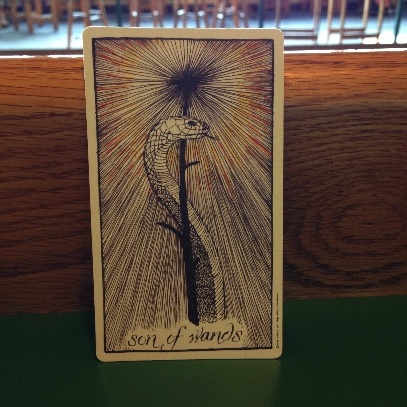 Son of Wands :: Wild Unknown Tarot
Creator's Keywords: charming, adventurous
The Tip Jar
If you find value in my work, consider contributing to the tip jar. Your support helps me continue to provide free content, pay for web hosting, and indulge in the occasional cup of tea. Much gratitude!
Give any amount
The Son of Wands is a one man victory parade. He is a beacon of self-confidence and assurance. The wand he holds seems to literally be a beacon, sending out heat waves that ripple across the card.
The angle of his head makes him look like he's marching with some swagger. The extended tongue just adds to this effect. If he could talk, I can almost hear him saying "I do what I want, and I do it well!" Rather or not this attitude is merited is still up for debate!
We can't help but admire his self-assuredness, but it also seems to border on cockiness. He stares straight ahead – he might have a plan, but he certainly doesn't seem to have a back up plan. He's banking on one thing working, and might not have the maturity to deal if it doesn't.
The Son of Wands is constantly seeking new adventures. He isn't someone to stick around when things get boring or stagnant. He's the life of the party, he knows how to be suave (but it can be hard to tell when he's just blowing smoke). His priority is following his next great adventure, but he struggles to enjoy the present moment. He's always up for a good time – but he might be gone before you know it!
In a reading, this card can suggest that you need this type of passionate, confident energy in your life. What feels hot to you right now? How can you dive headfirst into what lights you up? March towards excitement, but be cautious of the implications of your actions.
Sign up for weekly updates and get the free ebook,
The Tarot Reader's Daily Companion