I've written interpretations for every card in the Wild Unknown Tarot. As the box of the deck states, there are no rights or wrongs. These are simply my perspectives on the tarot card meanings. I hope you find them useful!
Click here for a directory of all posts in my Wild Unknown series.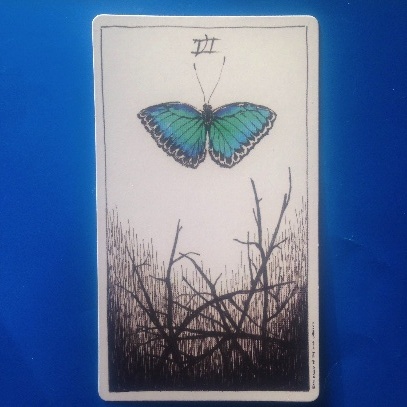 Six of Wands :: Wild Unknown Tarot
Creator's Keywords: victory, rising up
The Tip Jar
If you find value in my work, consider contributing to the tip jar. Your support helps me continue to provide free content, pay for web hosting, and indulge in the occasional cup of tea. Much gratitude!
Give any amount
A green and blue butterfly floats in a clear sky. She is tranquil and free, she has risen above the tangled heap of wands below. This butterfly is on the up and up, flying with confidence. Her colors are convey intuition and serenity.
The six wands below throw back to the discord and hassles of the previous card. They look like a chaotic trap, a sticky situation that our butterfly was able to rise above (both literally and metaphorically). The wands below descend into the dark, while the butterfly ascends to the pure, clear white. She is victorious.
The Six of Wands shows times of triumph. This card encourages us to follow the butterfly's example and tap into our strength of spirit when we are faced with adversity. Remember that life is on your side, know that you were born to soar.
Sign up for weekly updates and get the free ebook,
The Tarot Reader's Daily Companion