I've written interpretations for every card in the Wild Unknown Tarot. As the box of the deck states, there are no rights or wrongs. These are simply my perspectives on the tarot card meanings. I hope you find them useful!
Click here for a directory of all posts in my Wild Unknown series.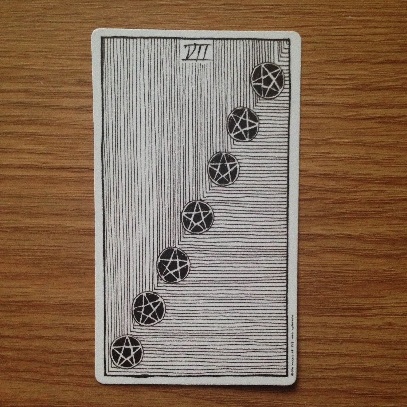 The Tip Jar
I put a lot of loving energy into creating these posts. If you find value in my work, please consider giving what you can to show your support. Thank you, thank you! Contribute any amount
Seven of Pentacles :: Wild Unknown Tarot
Creator's keywords: contemplation, reward
Seven dark pentacles form a perfect diagonal line across the card. The background lines bring to mind two possibilities: in one view, the pentacles are lined up against a wall. In another view, the background lines represent steady energy which changes directions where it meets the pentacles.
This card suggests those times when we've already put the initial groundwork into something (which happened in cards 1-6) and now we are pausing to take a look at the progress. There are times to make sure that "all of your ducks" are in a row before you take further action – this card speaks to those times.
The idea of direction change is something that is traditionally associated with the Seven of Pentacles. When we take stock of our situation, we may decide to proceed as we have been – or we may decide to try a varied approach. Either way, the Seven of Pentacles reminds us to pause and consider where we are (and where we want to go).
This card also shows the importance of acknowledging how much has been achieved so far. Even if you don't yet have a full blown harvest, you'll see the fruits of your labor if you look closely.
In a reading, this card can suggest stepping back and analyzing the life you are building. Have you been working diligently to create something meaningful, or have you been drifting? Are things developing in a fulfilling way, or has something gotten off track?
Get re-organized. Evaluate where things are going well and where you could use a different approach. Make a blueprint. Check in with the results of your choices, work and efforts so that you can move forward productively.
Sign up for weekly updates and get the free ebook,
The Tarot Reader's Daily Companion