I've written interpretations for every card in the Wild Unknown Tarot. As the box of the deck states, there are no rights or wrongs. These are simply my perspectives on the tarot card meanings. I hope you find them useful!
Click here for a directory of all posts in my Wild Unknown series.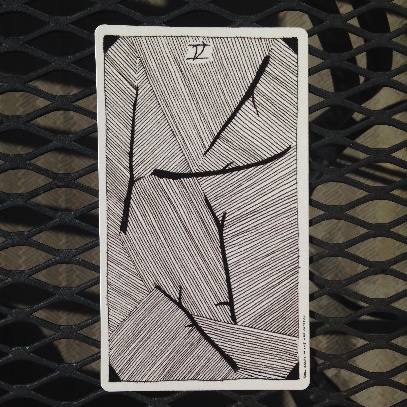 Five of Wands :: Wild Unknown Tarot
Creator's Keywords: conflict, competition, lost
Get a deeper perspective on the unfolding of your life.
I offer private tarot readings and mentoring sessions. Let's work together! Explore options
Up until now, the wands cards have been filled with bright color. But the Five of Wands is entirely black and white, suggesting that what was once an engaging challenge may now be going astray!
The wands are haphazardly dispersed about the card. Black and white background lines extend from various angles to divide the card into portions. This gives the impression that each wand is separated from the others in it's own little forcefield. They aren't working together and none are going anywhere.
The wands do seem to reach towards each other, but not to make a genuine connection. On the contrary, they almost seem to be defending their own territory, unwilling to compromise. They are scattered at best, working at cross-purposes at worst.
The visions, movement and accomplishments we saw earlier in the suit have dulled. We all go through rough patches, and this card shows the types of inconveniences, disagreements and tensions that stunt progress if left unchecked.
Derailments are part of the package. In order to re-harness vitality, you need to know when to keep fighting and when to move in a more productive direction.
Sign up for weekly updates and get the free ebook,
The Tarot Reader's Daily Companion