I've written interpretations for every card in the Wild Unknown Tarot. As the box of the deck states, there are no rights or wrongs. These are simply my perspectives on the tarot card meanings. I hope you find them useful!
Click here for a directory of all posts in my Wild Unknown series.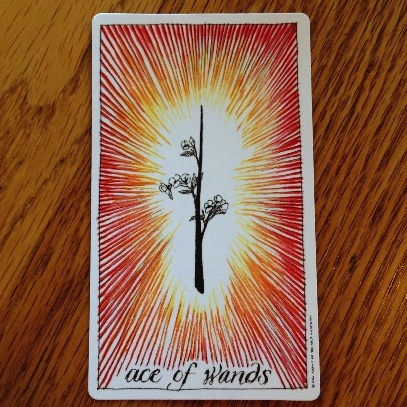 Ace of Wands :: Wild Unknown Tarot

Creator's Keywords: inspiration, new beginnings
A tarot reading meets you where you are and aligns you with opportunities for transformation.
Together, we'll create a space for you to reconnect with your inner wisdom and align with your unfiltered truth. I'm currently booking a limited number of one-on-one clients for June 2018. 
Learn More
The ace is the introduction to the suit of wands – and what an introduction it is! This contains the core essence of wands energy: fire, growth, and enthusiasm. It piques our curiosity and sets us on a course to explore the rest of the Wands cards – but first, let's take a closer look at this ace.
Patches of fresh blossoms and leaves are sprouting from the wand in the card's center. This sprouting foliage gives the effect of bursting life and untapped potential. The imagery throws back to that of the Fool, where we saw a chick perched on a branch. Perhaps this is the same branch?
Around the wand is a field of white-hot energy, which merges into orange and yellow rays. This is a reminder of the suit's association with fire. It's an exciting, radiating energy. Fire is an active, outward moving element. The Ace of Wands is ripe with an exciting, dynamic, adventurous energy!
The image evokes the zestful spark we've come to associate with the Ace of Wands, that first brilliant flash of inspiration that might lead us anywhere. Onward!
Sign up for weekly updates and get the free ebook,
The Tarot Reader's Daily Companion